AVO Fence & Supply Launches New Charitable Giving Promotion
Long-Term Support for Wounded Veterans Through JCS
When AVO Fence & Supply cancelled its annual holiday party in 2020 due to COVID restrictions, its employees suggested an alternative to owner Mike Palmer. Why not take the money that would have been spent on the party and donate it to a charity?
"My wife and I had worked with Family Promise in the past, so we chose them," says Mike. "It wasn't just me or any one person who decided to make the donation. It was everyone. That is the nature of the people in our company."
Since then, the company has continued to support Family Promise, a non-profit organization that allows communities to develop comprehensive, holistic solutions for families facing homelessness.
"There are always areas where there is a need," says Mike. "You have to find ways to pay it forward. It just seems like the natural thing to do."
New Charitable Giving Initiative
AVO Fence & Supply has announced it is expanding its charitable giving with a promotion designed to support the Joshua Chamberlain Society (JCS), a non-profit organization that provides long-term support to veterans who have sustained permanent combat injuries, and to the children of deceased veterans. In honor of the charity's mission, AVO Fence & Supply will donate a percentage of the sales it makes during the weeks of Memorial Day and Veterans Day to JCS.
JCS permanently "adopts" severely wounded veterans—those who have suffered traumatic brain injuries, lost a limb or multiple limbs, or both—as well as the families of those service members who sacrificed their lives in military service. Their mission is to make wounded veterans and families of deceased veterans feel the support and appreciation of their community for life.
Based in St. Louis, JCS is a region-based organization has established additional chapters in Nashville and Houston since its founding in 2007. JCS chapters typically adopt one veteran per year, for a total of 26 to date, providing permanent assistance in a variety of ways. For veterans who have lost multiple limbs, JCS has assisted in paying utility bills on "smart" homes that make their everyday life easier. They make donations to the college funds of deceased veterans' children, and provide financial and material support for home additions and renovations that accommodate wounded veterans.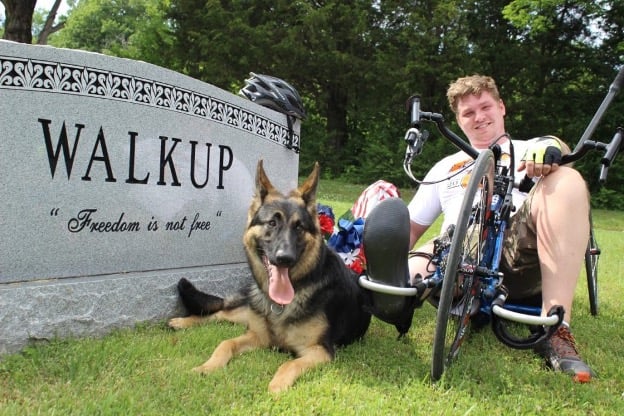 Reasons for Choosing JCS
Mike's decision to support JCS was driven by several key factors, one of which is that its mission is so unique.
"I started to get personally involved with JCS around 2011," says Mike, a veteran of the U.S. Air Force. "The level of commitment JCS makes to severely injured vets is the ultimate 'giving back' because these guys gave everything for our freedom. Taking care of the people who have sacrificed in this way for us is one of the most important things we can do."
Second, while JCS is a region-based charity, Mike believes their goals align with the philosophy of AVO Fence & Supply.
"We get requests from organizations in the local community, and we do what we can to help them," says Mike. "There is a need to support the community, to keep it strong. JCS is a great example of being there for a community."
According to Mike, the third critical factor in selecting JCS is the high percentage of donations that go directly to support the veterans—currently 92 percent. To keep administrative costs down, the organization's fundraising efforts are focused on events such their annual Price of Freedom Gala, as well as local fishing tournaments, bike rides, and other activities. JCS has also been designated as an accredited charity by the Better Business Bureau.
"There are a lot of charities out there, and the ones we decide to give to are special," says Mike. "It is important that the charity is truly about the people they serve."
As JCS states about the veterans they adopt, "their sacrifice is permanent, so is our support."
"The guys who founded JCS did something special," adds Mike. "The vets put their lives on the line, and when they are severely wounded, we owe it to them to make sure they are taken care of."
To learn more about the mission of JCS and how it supports veterans and their families, click here.
If you have any questions about fences, contact us and we'll happily discuss your needs and put our 150 years of experience work for you!