Best Stain Brands for Cedar Fences
Staining Tips & Brand Recommendations for Wood Fence Stains
Staining and finishing a wooden fence before it is exposed to destructive elements for extended lengths of time is perhaps the most important fence-maintenance tip. Staining protects wood's inner cells, allowing them to retain their natural strength. Before you stain, however, it's important to prepare the wood and decide which stain is best for your needs. Read on for helpful tips and stain brand recommendations based on our years of experience working in the fence industry.
General Principles
Preparing the wood for staining is an important step to follow to achieve the best results. Here are the guidelines that will help you prep the wood correctly prior to stain application. After you've made obvious repairs, removed vegetation, and cleaned your fence you need to wait for a period of time for the wood to dry out.
What is the proper time frame for staining a fence? If you have just installed a fence, it's best to wait a few weeks before staining it. For example, cedar fences can take up to five weeks to dry out. After that, you can apply a wood brightener to restore the red color and proceed to staining. However, if not only the fence itself is new but the wood as well, you might have to wait a few months to stain it. Talk to your fence contractor if you're not sure about the age of your wood at the time of the fence installation to get a more accurate picture of how long you'll need to wait.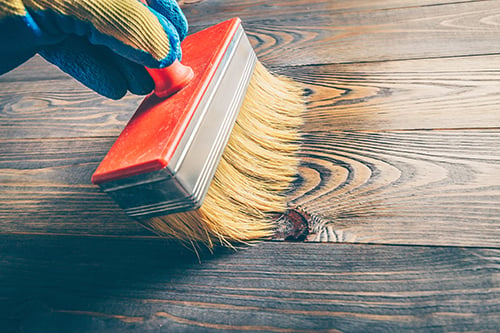 Staining Tips
Moisture content must be less than 20% on the day of application to ensure lasting performance.
Stains should be applied when surface and air temperature are between 40°F and 90°F.
To add appeal to a fence without masking its wood grain, use a semi-transparent stain. The wood's natural beauty will shine through the tone of the stain while the slight pigment will ensure UV protection against discoloring.
Roller application or spray with back brushing are the quickest method to apply stain. They also help achieve a uniform finish.
Avoid staining in direct sunlight to prevent lap marks.
Maintain a wet edge for continuous lengths, stopping only at natural breaks.
Once the wood is stained, finish it with a sealant such as polyurethane that will render wood resistant to sunlight, heat, and water.
Waterborne vs. Oil-Based Stain for Cedar Fencing
Choosing between oil-based and water-based stains for your cedar fence can have a big effect on the fence appearance and longevity. Waterborne stains clean up more easily (with soap and water), dry quickly, and provide excellent UV protection. Water stains are also better at slowing down wood's natural fading or graying. Additionally, if you decide to apply a certain color by staining, keep in mind that water-based stains deliver longer-lasting color.
Classic oil finishes penetrate deeper into the wood, resulting in a uniform finish that protects the wood inside and out. Oil stains are best used to minimize cracking and peeling and are easy to recoat. Although stains based on oil take longer to dry, they also last longer than their water-based counterparts. If you prioritize having less maintenance to do on your cedar fence, oil-based stains are your ideal choice.
Best Staining Brands
Now that you know more about staining, it's time to consider which stain brands are best for cedar fences. Having more than 30 years of experience in the fencing industry working directly with both contractors and homeowners, we carry one of the largest inventories of cedar wood fencing in the Northeast. Based on our experience and the experience of our clients, we recommend these two specific brands, known for their premium-quality performance.
Benjamin Moore
Benjamin Moore is only available at independently owned paint and hardware stores. The ARBORCOAT® stains lineup of Benjamin Moore brand is great for wood protection, whether it's fencing, siding, or decking. You can choose different opacities ranging from translucent to ultra-flat solid. The lineup carries both waterborne as well as oil-based stains.
The specific benefits of ARBORCOAT® waterborne stains are: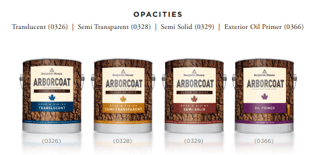 Excellent color retention, fade, and mildew resistance
Dries in 1 to 3 hours
Easy, soap-and-water clean up
The benefits of ARBORCOAT® classic oil finishes are:
Excellent durability: resists cracking and peeling
Provides a UV- and mildew-resistant coating
Translucent oil finishes designed to enrich hardwoods
Oil primer offers excellent adhesion and stain-blocking properties
The unique alkyd formulation of oil-based stains also penetrates deeper into the wood, providing unmatched resistance to cracking and peeling.
Sherwin-Williams
Most Sherwin-Williams paint products are exclusive to Sherwin-Williams stores, which are located across the U.S. The SuperDeck stain lineup also has both waterborne and oil-based options available in a range of opacities.
The specific benefits of SuperDeck waterborne stains are: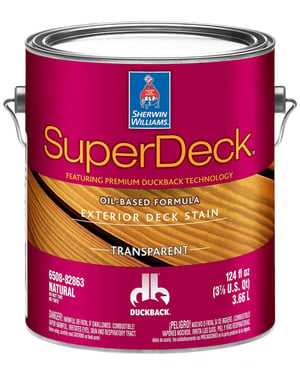 Protects the integrity of your wood deck for 3 years with fast, easy application
Contains agents which inhibit the growth of mildew on the surface of this paint film
Wears away gradually rather than peeling and blistering at the end of its lifecycle
Can be applied on damp wood, so most jobs can be finished in a single day
For oil-based SuperDeck stains, the benefits are:
One-coat-only coverage on most exterior woods
Scuff-resistant formula with UV protection that resists fading
Repels water to prevent moisture damage
Contains agents that inhibit the growth of mildew on the surface of this coating
Depending on which opacity levels you choose, the benefits may vary, but these are the general guidelines when it comes to choosing a specific stain that works best for cedar fences.
Remember that your location's climate, level of sunlight on your fence, fence age, and other factors are important when deciding which stain is best to use. By investing in fence-maintenance, you will achieve fence longevity, increased privacy, and superior curb appeal to enhance the enjoyment of your property.
Choose the Right Wood Material: Cedar
If you are thinking of replacing your old fence completely, perhaps the best way to ensure your wooden fence lasts as long as possible is to choose the right wood material. Cedar is one of the best naturally rot-resistant woods that endures our northern climate—up to three times better than any other type of wood and can last for upwards of 20 years with proper care. AVO is one of the only local suppliers of cedar lumber in southeastern MA. We specialize in quality northern white cedar at affordable prices. Our inventory includes an array of options for wood grade, thickness, and type of cut. The best part of it is that when you buy your lumber directly from the source (that's us!), you'll have more options to choose from while saving money. Take a look now and plan some summer activities in your yard!