AVO Is Proud to Give Back to the Community
AVO Congratulates a Local Eagle Scout on Earning His Highest Patch!
At AVO Fence and Supply, we value the opportunity to give back. And when a scout from Troop 9 reached out to one of our fence experts to purchase a post and rail fencing for his final project, we took the opportunity to donate fence parts and give back to the community that supports us.
How It All Began
For many years, scouts of Troop 9 maintained the grounds and building of the Pond Plain Improvement Association, a vital meeting hall for the organization comprised of residents from Weymouth, Abington, and Braintree. Over the years, Troop 9 has repaired the front porch, front stairs, side stairs, flagpole, numerous doors and windows, as well as painted the interior and exterior, cut the lawn, raked the grounds, and trimmed the trees. Scouts from Troop 9 were, and are, regularly counted on to spread the word on different events that Pond Plain hosted, as well as to assist in the set-up for these events aimed at fostering community spirit, improving and beautifying the neighborhood, and increasing the town's sense of community.
When Ayden Doyle, a young Eagle Scout from Weymouth's Troop 9, was deciding on his final Eagle Service project, it became apparent to him that giving back to the Pond Plain Improvement Association, where he became a scout, was the right thing to do for him. As he assessed the grounds of the venue, he noticed that the traffic pattern for drop-offs was not as effective as it should be. He had an idea that became the prime goal for his Eagle Scout project, and volunteered to build a fence around a portion of the Pond Plain Improvement Association's parking lot.
Creating a Safe Outdoor Space
The main purpose of the fence was to create a curb space for pick-ups and drop-offs for all passenger vehicles—one that encourages vehicles to park on the side and rear of the Pond Plain's building, and discourages parking along the inside of the horseshoe-shaped driveway, which creates an unsafe zone for cars and pedestrians leaving the building.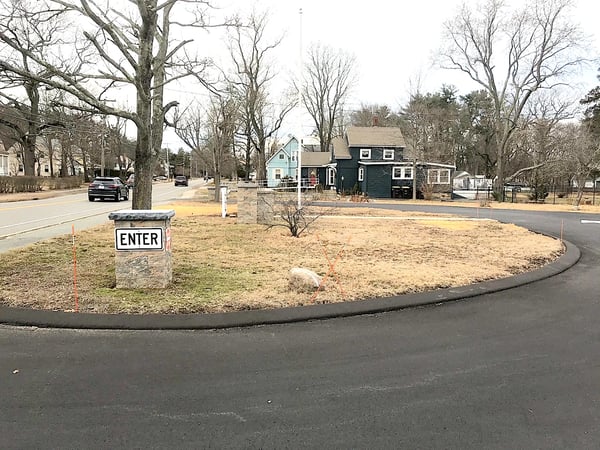 The Driveway Before The Fence Installation
Pond Plain recently underwent a large-scale parking lot project and added a berm so cars wouldn't park on the side of the driveway entrance, but it wasn't enough to solve the problem entirely. To help create a smoother, safer traffic pattern, Ayden's project was aimed at creating a dedicated drop-off zone and prevent any future parking in the driveway's entrance and exit.
AVO Donating Fence Parts to Support the Project
Presented with this task, Ayden started reaching out to different people, and was given a recommendation from someone in his community to talk with Art Caron at AVO. When Ayden and his father visited AVO's store in Stoughton, they were pleasantly surprised by the selection and quality of different fences. After hearing about Ayden's project, Art Caron offered to donate all the necessary fence materials to support his project, and had them ready to go for Ayden when he visited.
Throughout the project, Art was in touch with Ayden and advised him on fence installation, sharing his expertise and tips that helped Ayden to finish the project over two Saturdays without any previous fence installation experience. With the help of 23 volunteers the first day and eight volunteers the second day, Ayden installed a horseshoe-shaped cedar post and rail fence around the circle in the Pond Plain's parking lot.
"AVO was so much help. I am glad that someone had their contact information. I was so appreciative … and in shock! I had been trying to plan what kind of fundraising I would do to come up with the money to pull this off. It was such a welcomed relief and allowed me to put all my efforts into building the best fence I could," Ayden said. "The whole process was very smooth—he was so open and welcoming. Mr. Caron communicated with me, checking in on the project as it was underway. He could have just donated the fence and been hands-off, but he did care about it. His tips were very helpful. I would refer anyone to go to them for help with projects in the future. The first day I came, he already had the fence materials set up for me. I definitely appreciate the help and the company—and would recommend AVO, without hesitation, to anyone looking to get a fence for any kind of project."
The scout noted that not only did the fence created a safe drop-off zone, but it also added an aesthetic detail to the property. "I drive by now and can't remember what it looked like before we constructed it," said Ayden.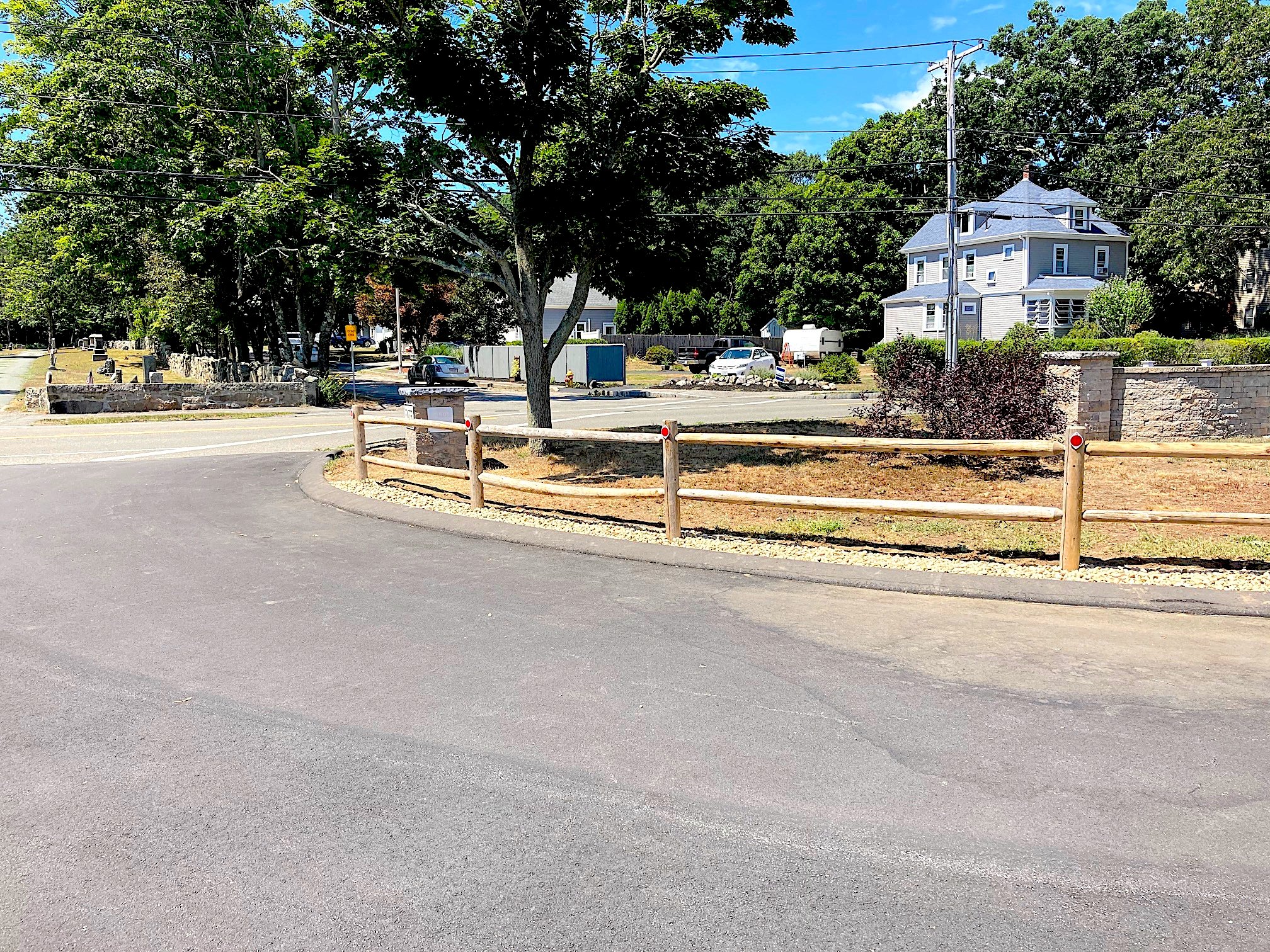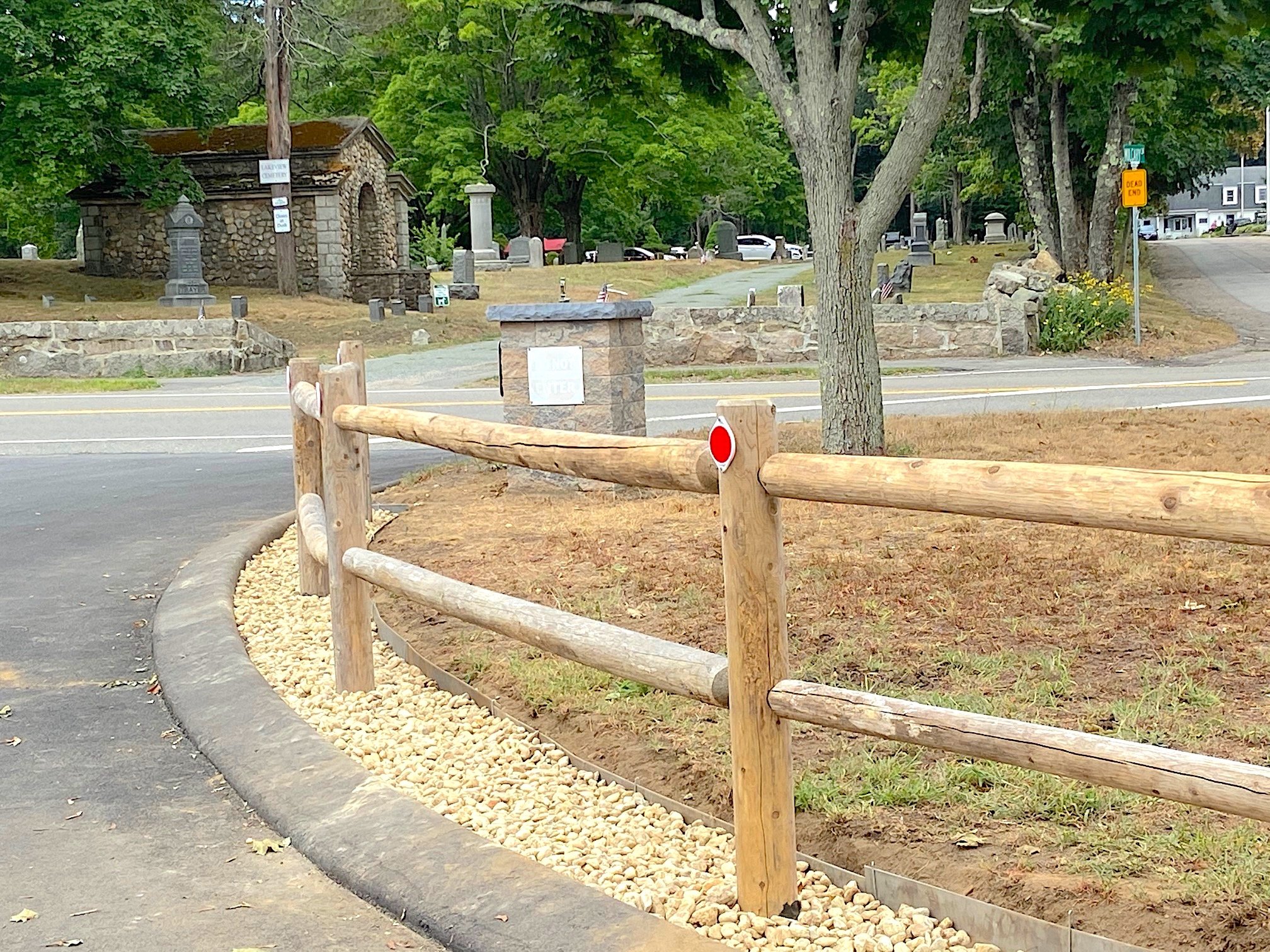 Time to Celebrate!
Upon completion of the project, Ayden sat for his Scoutmaster Conference—one of his final steps before sitting for his Eagle Scout Board of Review and presented his project, reflecting on his experience in Troop 9. Ayden has already earned the position of Eagle Scout by completing the requirements, but must acquire six letters of recommendations showing how he has lived like an Eagle Scout in all phases of his life (home, school, church, etc.). Ayden's Eagle Scout Board is tentatively scheduled for the end of October 2020, due to COVID-19 restrictions and delays. After passing his final board, Ayden will be officially presented with his Eagle Scout patch, plaque, certificate, pins, and medals at an Eagle Scout Court of Honor Ceremony. Quite a rite of passage in homage to his efforts to ensure everyone a safer passage when they visit the community venue he and others spend so much time at. Congratulations, Ayden! We hope you are as proud of your achievement as we are of you!
AVO is grateful to Ayden Doyle and Art Caron for the opportunity to give back to our community in Weymouth.