Top 5 Reasons Why AVO's Vinyl Gates Are Built to Last
Learn the Best Techniques for a Sag-Free Gate
Choosing a gate for your home actually requires much more consideration than you might initially think. You need to ensure that proper fit and performance are defined and that the overall aesthetic supports the strength and safety of your gate and fence for many years.With over 45 years of experience manufacturing fencing solutions, AVO assembles custom-made gates for quality and fit you won't find "off the shelf." Whether you have an uncommon gateway size or want to match an existing design, we can work with you to achieve the result you want. As a fencing manufacturer, we handcraft each gate and fence according to your specific needs, from size to decorative elements.
Our ability to customize, along with our unique manufacturing process—which we'll discuss below—are not the only factors setting us apart from the competition. We use only the highest quality materials that are made in the USA—everything from the screws to the pockets to the vinyl material itself is made in America and is backed by a guarantee. AVO sources the best-quality vinyl products made in the United States and works with well-established suppliers such as Bufftech and LMT to ensure we deliver our promises.
But that's not all. Here are five more reasons why the vinyl gates we manufacture are constructed the best and stand the test of time.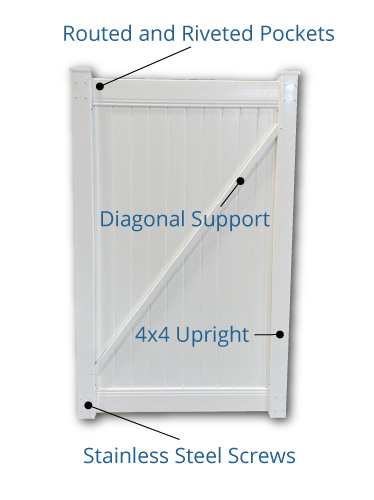 1. Routed and Riveted Gate Pockets
The main purpose of gate pockets is to support the rails of the gate and ensure that the fence gate will stay square and not sag. When glued and riveted into uprights, these pockets provide strong, rigid corners and ensure a long-lasting finished look of your vinyl gate.
2. Integrated Diagonal Support
The diagonal support, also called a "brace," ensures that the gate stays square and doesn't sag. The reason we brace a gate is primarily to keep it from sagging so it remains functional and aligned, as it was intended to from the beginning. A lack of bracing or improper bracing leads to "vertical deflection" or sagging. Having integrated diagonal support provides additional support that helps as a preventative measure.
3. Sturdy 4 x 4 Posts with Thicker Uprights
A strong gate post (usually a 4" x 4") is the most important part of the gate that helps it stand up to use over time. Our 4" x 4" gate posts are constructed with uprights that are sturdier and heavier than the average uprights you'd normally find. For reference, AVO's upright thickness is .175'' while the typical upright is .115''. Because gate posts are what holds up the gate, the thickness of the uprights in gate posts determines the longevity and durability of the gate: the higher the thickness of the upright the more stable and durable the gate will be.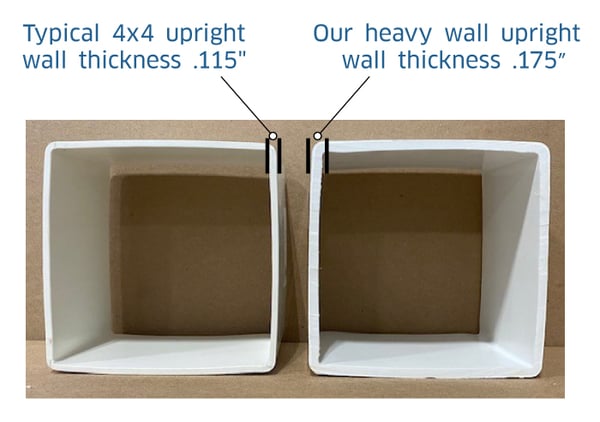 Additionally, we also include wood within the uprights for additional strength. This further helps secure the gate hardware and allows it to withstand usage in rough weather conditions.
4. Mechanically Fastened for Ease of Repairs
One of the significant benefits of our vinyl gates is the ability of disassemble the gate. There are certain situations in which you'd probably want to repair a part of the gate, instead of having to pay to replace it fully—for example when a car has crashed into it or a tree has fallen. However, most of the gates in the industry are glued together, so it's impossible to simply repair the gate. When the gate is screwed together it can be altered and taken apart and repaired. This seemingly unimportant consideration can help you save hundreds in the long run.
5. Stainless Steel Fasteners and Hardware to Protect Against Rust
One of the best ways to prevent wear and tear is to use heavy gauge stainless steel hardware. The hardware quality is crucial to the gate, since it keeps all the parts intact. Stainless steel is one of the most reliable metals to endure hard weather conditions, provide additional strength, and withstand rusting.
Get a Free Consultation
Interested in vinyl? Look no further for that custom vinyl gate to complement your fence and yard. Whether you need to purchase solid privacy, routed picket, or closed picket gates, we will masterfully craft them just in time for your needs. Our vinyl gates can be manufactured to match any of the vinyl fence styles you see in our catalog. AVO offers high-quality, competitively priced custom vinyl gates that fit exactly according to your needs. If you have any questions about vinyl gates, contact us and we'll happily discuss your needs and put our 150 years of experience work for you!