Custom Gate Options to Match Your Fence
Combining Style and Sensibility for the Perfect Property Enhancement
No matter how nice a fence looks, poor gate structure can frustrate any property owner. You want to ensure that when adding a gate, the convenience factor does not compromise your security, which is why proper fit and performance must be considered at the beginning of the project. The overall aesthetic should be defined and also support the strength and safety of your gate and fence for many years. Given that the design, measurement, and fit of the gate often do not get attention until the very end of fence installation process, it is important to get professional help to achieve a perfectly proportioned gate.
As a fence manufacturer with years of experience, AVO assembles custom-made gates for quality and fit you won't find "off the shelf." Choose from cedar, vinyl, chain-link, or double-drive gates that fit your fence needs and style preferences. Whether you have an uncommon gateway size or want to match an existing design, we can work with you to achieve the end result you want. We can also work off of a picture or sketch to get you exactly what you need!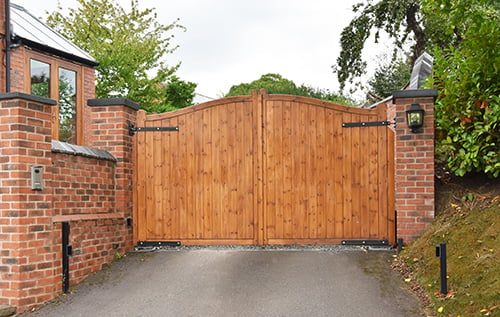 Custom Cedar Gates
Cedar gates make an attractive and protective entrance to your driveway, yard, or patio, while providing a good transition from a fence to gate. A cedar fence gate can provide a functional, convenient addition to your home. It's easy to see why so many people choose cedar gates for their properties. Compared to other woods, cedar has minimal shrinkage, twisting, and warping. Not to mention, there is also a vast variety of cedar gate styles to provide the privacy and security you look for. With gates made from cedar, you also have the ability to get a unique custom gate, with hardware from hinges to latches and more. A good starting point would be our online catalog of cedar gates. But don't just stop there—contact us and we can discuss your particular project's customization further!
Custom Vinyl Gates
Durable, and low-maintenance vinyl is a popular choice for pool, patio, and perimeter gates. Vinyl has become increasingly attractive as a gate-building material because its natural toughness enables it to withstanding in the harshest weather conditions, with very little upkeep required to stay in perfect working order.
Interested in vinyl? Look no further for that custom vinyl gate to compliment your fence and yard. Whether you need to purchase solid privacy, routed picket, or closed picket gates, we will masterfully craft them just in time for your needs. Our vinyl gates can be manufactured to match any of the vinyl fence styles you see in our catalog. AVO offers high-quality, competitively priced custom vinyl gates that fit exactly according to your needs. Contact us to get a quote for your custom vinyl fence project!
Custom Chain-Link Gates
A chain-link gate is a durable, cost-effective solution used for perimeter security and pet safety. While chain-link is often considered to be a commercial or industrial material, it can just as well provide an excellent option for a home or business property—on its own, or combined with other fencing materials. Our residential chain link gate features high-quality low-carbon steel wire that is galvanized and PVC coated. We also offer chain-link fabric available in 2″ 9-gauge or 1 1/4″ 11-gauge pool code mesh in 50-foot rolls. Contact us if you have any questions about how a chain-link fence would fit with your property requirements.
Double-Drive Gates
A gateway to your property provides security, convenience, and aesthetic value. A double-drive swing gate is perfect for wider entrances at the front, side, or back of your property, allowing easy access for vehicles, boats, and trailers.
Capped, scalloped, ornamental, with lattice accent, or swing—we have a range of gate styles! Our catalog is merely a starting point—contact us directly and let us bring your vision to life with customized double-drive gates from AVO!
More than Your Local Fence Company
AVO Fence & Supply knows there is always more to learn when it comes to the latest tips, technology, and professionalism in the fencing industry. It's why we're sharing that expertise here with you. Style and sensibility can and should work together when designing the right fence and gate combination for your property. Your vision and goals are an important part of each project, and we're here to help them become a reality. Start planning your next fencing project today with AVO Fence & Supply.