Choosing the Right Gate for Your Home
How to Choose the Best Gate that Fits Your Taste and Budget
Choosing a gate for your home can be more daunting than you'd expect. There's more to consider than simply choosing a style you like: there are regulations, guidelines, and many other factors to consider.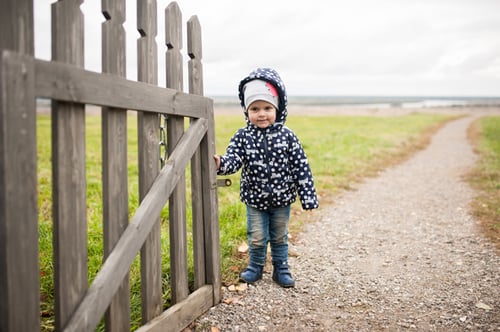 We'll go over some of your options to help you discover what's best for you and your home. Read along or jump to the specific section you are most interested in:
3 Steps You Should Take Before Choosing a Gate
Check Your HOA
First things first, you need to check with your city or town's regulations and codes. You don't want to make any decisions that could end up in penalties or become more costly than necessary. Figure out the regulatory parameters and know the size and requirements before you start browsing.
Research Your Options
Do you want a gate made in wood, vinyl, ornamental or chain link. Do you need Security features? Electronic key codes? You'll want to know what's possible before buying the first option you find online or in the store. This includes types of gates and styles that match your home, along with its function: aesthetic, full privacy, security, safety for children and pets.
Take Measurements
After taking care of the list of items beforehand, lastly, it's important to check measurements. Ensure your chosen gate can fit, is up to code.
Available Gate Styles
It's your good fortune that there are endless options for gate styles. Apart from considering whether you want your gate style to be in line with the fence you already have in place, there are a few other considerations to make.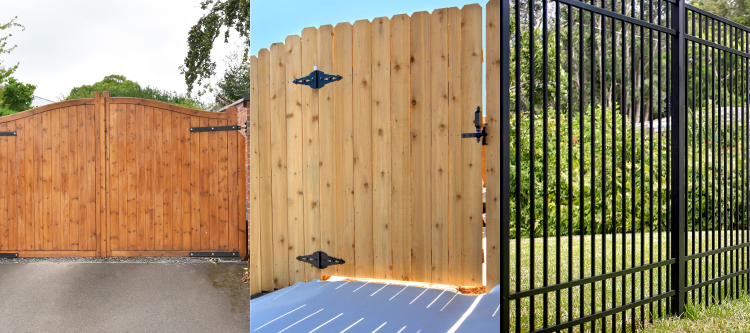 Standard Gates
Typically with standard gates, they will be the same material and size as the fence. The gate and the fence should be the same height. A gate that is either much shorter or much taller than your fence will look uneven, otherwise. Standard gates also offer a uniform look.
Security Gates
Security gates are made with the sole purpose of safety and security. Sometimes they're made with privacy in mind, but these are meant to keep people out and deter or prevent robberies. They are typically made of heavy metals for extra safety measures. They often incorporate a security system of some kind. These gates offer both security and style, and most are designed for easy installation.
Specialty Gates
Specialty gates are any type of gate other than what you would typically find on a typical residential fence and various materials or styles. In addition, specialty gates usually consist of swings, rolling gates, or double gates.
Double-Drive Gates
Many people might require more than one gate for their fence. Under these circumstances, it might be more feasible to opt for a double gate to expand your entrance's width. This is helpful for larger items, such as landscape equipment. Double gates can be virtually any width—but be mindful—they will be significantly heavier than single gates.
Hidden Gates
As assumed, having a hidden gate means having an opening that remains hidden. Think of it as a secret passageway; it's not meant to be completely obvious. They can be made with many materials, but the majority are made of wood.
Types of Gate Openings
Gates can open and close in various ways to fit any accommodation you can imagine. Below are a few of the gate-opening-types you might want to consider.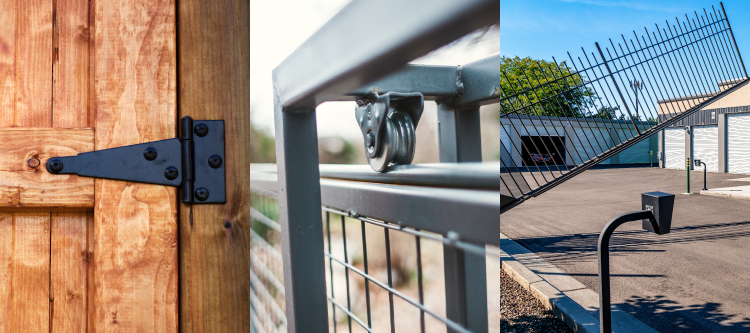 Swing


Swing gates are relatively common—one of the most popular types of gates. They swing inward or outward. Swinging gates can be made up of one large gate that swings open and shut or two gates that connect and open and close. These differ from sliding gates that move back and forth. They accommodate cars and large vehicles passing in and out.
Cavalier
These gates are also some of the most common types of gate openings. These are split in the middle and open with a "V" shape.
Sliding
These gates go from left to right or right to left by sliding. There are different types of sliding gates, such as V-track, rear pipe, or a cantilever slide gates; all of them use a sliding mechanism at the bottom of the gates and are meant to roll back and forth to enter and exit. They offer generous space for vehicles.
Pivot
Pivot gates are perfect for large vehicles. The vertical pivot gate opens by rotating upward at one lower corner and pivoting 90 degrees upward. These gates rest on their side until they are lowered.
Vertical
As assumed, the vertical lift gate moves upward to open rather than sideways, or to push outward on one side.
Bi-Folding
These gates are typically meant for pedestrians and cars. The gates are broken down into two pieces, offering two size openings.
Common Gate Materials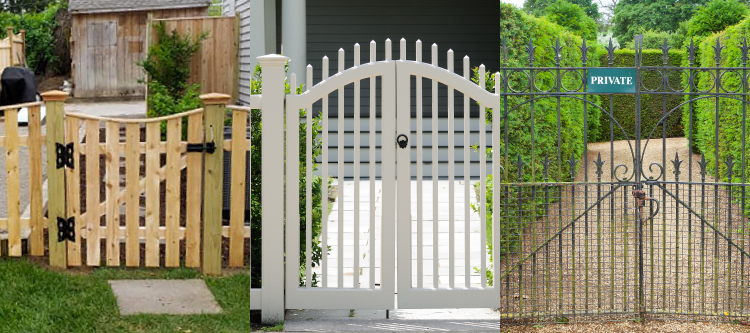 Wood Gates
Wood is one of the more traditional options for fencing materials. Wood is designed to create a classic look and offers the option of staining or painting to your liking. Wooden gates often need to be adequately sealed for longevity, or the weather might tarnish them. Fortunately, AVO cedar lumber innately has its own natural protection, making it one of the best choices for four-season wood fence. And this leads us to another consideration concerning wooden gates: which wood type to choose?
The type of wood you choose depends on your climate, budget, and the longevity of its use (how long you plan on staying in your home). Cedar is one of the best naturally rot-resistant woods that endures our northern climate—up to three times better than any other type of wood, and can last for upwards of 20 years with proper care. AVO is one of the only local suppliers of cedar lumber in southeastern MA. We specialize in quality northern white cedar at affordable prices. Our inventory includes an array of options for wood grade, thickness, and type of cut. The best part of it is that when you buy your lumber directly from the source (that's us!), you'll have more options to choose from while saving money.
Click here to view wooden gate options.
Helpful reading:
Vinyl
Vinyl is often used as an alternative to wood. It offers the appeal of wood but eliminates some of the maintenance needs. Vinyl gates are made with chloride and ethylene mixed. This makes it easier to mold into a style or shape of your choice. Designed to be durable, today's vinyl fencing products feature a texture and finish that penetrate the material instead of simply sitting on the surface. When properly installed, vinyl products will withstand harsh weather conditions.
AVO carries the highest quality vinyl in the industry manufactured by a name you can trust—CertainTeed Bufftech Vinyl Fence Products. Bufftech's premium features, including high-quality raw materials, reinforced rails, heavyweight pickets, routed fence posts, and exceptional warranty ensure it will outlast and outperform other vinyl fences.
Click here to view vinyl gate options.
Helpful Reading:
Aluminum
Aluminum is a popular choice for a traditional and robust look. It can be formed into various shapes, styles, and sizes. It can be intricately designed. It is also light in weight and can come from recycled materials, which makes it desirable for those eco-conscious customers. Contact us to discuss your aluminum gate needs!
Chain-Link
A chain-link gate is a durable, cost-effective solution used for perimeter security and pet safety. While chain-link is often considered to be a commercial or industrial material, it can just as well provide an excellent option for a home or business property—on its own or combined with other fencing materials. Our residential chain-link gate features high-quality, low-carbon steel wire that is galvanized and PVC coated. We also offer chain-link fabric available in 2″ 9-gauge or 1 1/4″ 11-gauge pool code mesh in 50-foot rolls. If you have any questions about how a chain-link fence would fit with your property requirements, we're here to help!
Wrought Iron
Wrought iron is probably the heaviest and sturdiest of your gate material options. Wrought iron is exceptionally dense and heavy. People typically love the look of wrought iron—giving a regal, intense, and traditional look. It isn't as naturally inviting as wood, for example, but offers elegance in its own right. Contact us with wrought-iron gate questions you may have, and we will be happy to assist your next project!
We're Here to Help!
Hopefully, this insight helps you with your first-stage considerations when purchasing a gate for your home. Dive deeper for a clear understanding of all the variables your home, property, aesthetics, and budget require to find the right fit for your lifestyle. Style and sensibility can and should work together when designing the right fence and gate combination for your property. Your vision and goals are an important part of each project, and we're here to help them become a reality. Start planning your next fencing project and contact AVO Fence & Supply today.