Why Vinyl Fence is the Most Popular Choice for the New England Climate
5 Reasons to Choose Vinyl Fence for a Coastal Area
When most people hear "vinyl fence" they envision shiny, white, plastic-based pickets and panels. For many years this was one of the only styles available, and shiny, white vinyl fence became the standard in neighborhoods across the U.S.
Today, vinyl fence technology is creating more durable and versatile products than ever before. Various colors and textures mimic natural materials, helping homeowners achieve a custom look. Steel-reinforced railings and UV protection make it a favorite of contractors for long-lasting, low-maintenance fencing. Take a closer look at why vinyl fences are ideal for the climate in New England and contact AVO for your next vinyl fence project.
1. Durability in Harsh Weather Conditions
Sun, wind, or rain – today's quality vinyl fence is manufactured with steel-reinforced railings, heavyweight pickets, and UV protection—ensuring it will stand up to the harshest conditions. That is why vinyl is quickly becoming the most sought-after fencing material in New England. For coastal areas with heavy weather conditions, vinyl has proven to outperform many other materials. Vinyl fence will not be affected by moisture, as plastic is tough and resistant to the effects of sand and salt. Its strength and flexibility allow it to absorb the impact from everyday run-ins with lawn mowers and tree limbs, reducing the chances of sagging or bowing. Typically, vinyl fences installed right can last over 25 years making it much more durable than wood.
2. Ease of Maintenance
Perhaps the greatest benefit of vinyl from a homeowner's perspective is that it's virtually maintenance-free. Vinyl won't warp, rot, splinter, peel or blister, and it never needs sanding, staining or painting. Fences made from vinyl are also fire-resistant and impervious to pests like termites, fungus, dry rot, and decay. All a vinyl fence needs to keep it looking its best is an occasional washing with a garden hose—say goodbye to messy paints and strainers!
3. Innovative Colors and Textures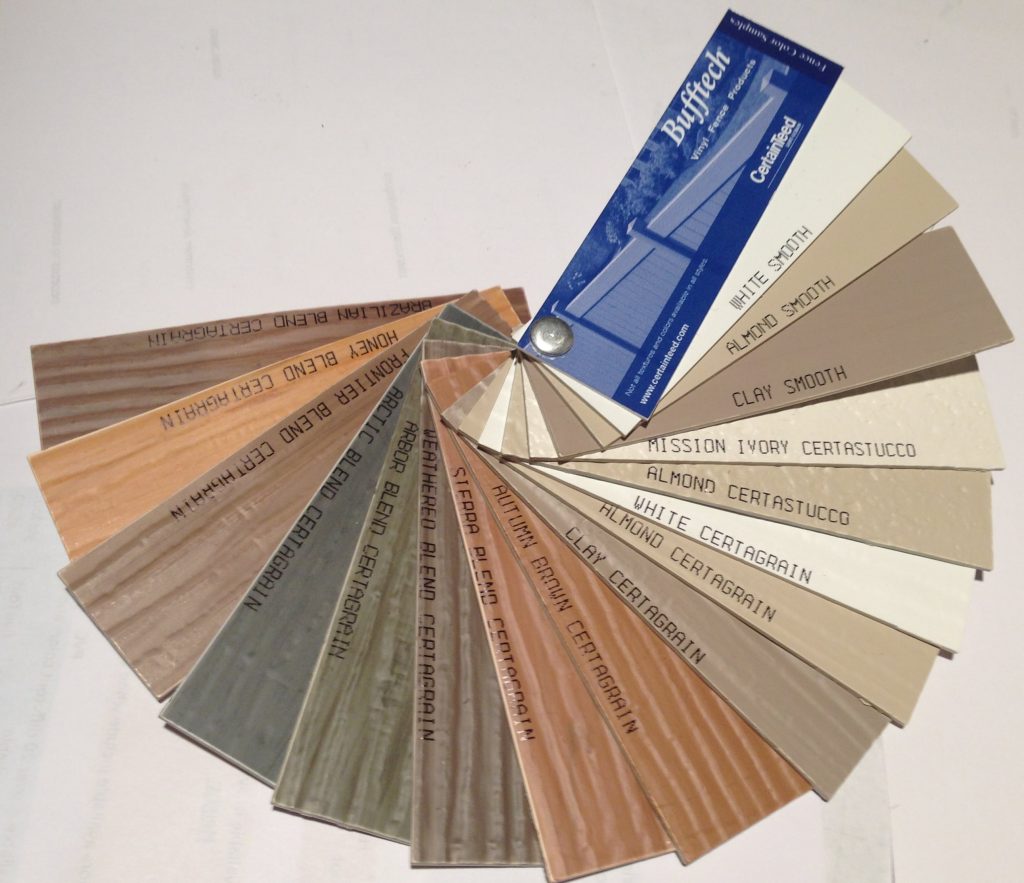 Almond, Natural Clay, Mission Ivory... Vinyl fences are available in a wide array of multi-chromatic color blends that can complement any home or backyard. Bufftech is the only vinyl fence manufacturer to offer ColorLast® dark color fade protection, an acrylic formulation that provides superior protection from the harsh rays of the sun. With such protection, you can even go for darker shades without risking color fading over time.
Not only are there a number of different shades available, but also various textures to maximize a natural wooden look or even mimic an authentic stone texture. CertaGrain set the standard for the latest innovations in sophisticated vinyl fence styling. Bufftech vinyl fences provide a classic look of stained wood with the durability and easy-care benefits of vinyl.
4. Easy Installation
Vinyl fences are known for easy installation, thanks to their modular factory design allowing them to be cut into different shapes and lengths. No nails, no risk of splintering, and no metal parts! Additionally, vinyl's light weight reduces a lot of the manual moving difficulties making it easy to handle and cheaper to install than metal or chain-link fences. In fact, vinyl fences are such a breeze to install that many homeowners opt for DIY installing of vinyl fences. However, it's good to keep in mind that fence installation is a project best tackled by two or more people. Click here for a guide on how to install a vinyl fence.
If you're looking for help installing a vinyl fence AVO will be happy to recommend an approved contractor thoroughly trained and certified to support and service vinyl products.
5. Vinyl Fence Warranty

Vinyl fences can naturally last a few decades due to its many properties outperforming other fence materials. When it comes to vinyl, AVO chooses Bufftech products for highest quality materials—plus an unbeatable warranty. CertainTeed stands behind the Bufftech line with an exceptional lifetime limited transferable warranty. SureStart™ protection, an exclusive CertainTeed benefit, covers warranted repair and replacement costs–including labor, for five years after installation.
Whether you are looking to replace a privacy fence, enclose a pool or patio, or add landscaping features like a pergola, maintenance-free vinyl fencing from Bufftech is a great choice made to strive in New England climate. Vinyl fencing not only looks amazing, but it is also environmentally friendly and can be recycled at any point; it is produced without using harsh chemicals to protect the surrounding environment.
AVO carries the highest quality vinyl in the industry manufactured by a name you can trust - CertainTeed Bufftech Vinyl Fence Products. Bufftech's premium features, including high-quality raw materials, reinforced rails, heavyweight pickets, routed fence posts, and exceptional warranty ensure it will outlast and outperform other vinyl fences. Contact AVO with vinyl fence questions you may have, and we will be happy to assist your next project!