Best Options for a Security Fence on Commercial Property
What Fences Are Best When It Comes to Security?
When it comes to security fencing for a commercial property, there are a lot of factors to consider. Although security will probably be the number one factor on the list when selecting a fence for a commercial property, other factors, such as privacy, visual appeal, and budget will still play a big role in determining which fence is best. Additionally, depending on the nature of business and location, some fence options may seem more attractive than others; an outdoor restaurant, for example, may lean towards decorative vinyl fences, while a heavy-duty industrial business will look for more sturdy and functional fences made of metal.
To help you get started on selecting the best fence, we've developed this list of the most common fence materials used in commercial security fencing with recommendations based on business types. Take a look at your options and learn which can best serve your needs.
1. Aluminum
Aluminum fences provide what most people need to secure their properties—strength, durability, and ease of maintenance—all for a reasonable price. The vertical bars make aluminum fences difficult to climb, while the strength of the metal keeps it securely placed for many years when properly installed. Additionally, rail configurations and picket tops can be added to prevent unwelcomed visitors from entering the premises, or can block a ready route of escape. Aluminum fences can be complemented with entry and driveway gates made from the same material to keep the area fully secure.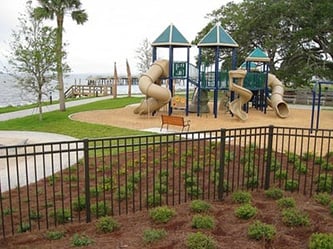 Ornamental aluminum fences are in high demand for self-storage, retail outlets, distribution centers, manufacturing, and many other types of business. Attractive security is the leading objective for many business installations when it comes to aluminum. AVO carries Ameristar ornamental aluminum fences, known in the industry for their high resistance to rust and corrosion. Ameristar fence options are a cost-effective way to enhance the business' exterior while providing security and withstanding wear and tear.
Fences made from aluminum are not as rigid as steel or iron, but they provide superior corrosion resistance and are low maintenance, making them ideal for coastal areas with a high exposure to salt-spray and extreme humidity. Depending on the quality of the metal and coating process used to manufacture the fences, aluminum fences can last for decades.
2. Chain Link
Chain link fencing is an attractive option for businesses looking to get optimal security and longevity without the need for total privacy. Chain link fences are strong, they last for a long time, and they can deal with harsher weather conditions. Compared to aluminum, however, chain link fences are easier to climb.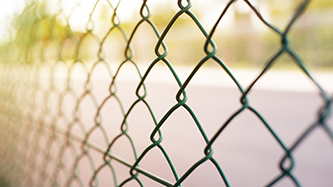 Another great benefit of chain link is its generally lower cost than other options. For better performance, it's also possible to install slats that reduce the impact of noise, wind, and dust. These days, chain link fences are available in galvanized and PVC-coated finishes.
For its robustness and durability, chain link fencing is mostly used in industrial and construction settings. Chain link fences can also be utilized to secure a small area outdoors. It is often used indoors to create secure storage spaces inside warehouses.
3. Wood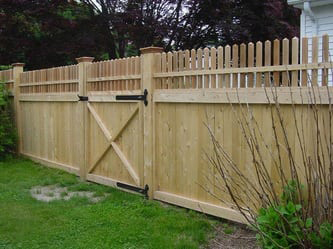 Wood fences are a natural choice that provide both security and privacy. They can be built up to 8-feet high and be stained, painted, or left natural. They are also a cost-effective choice for wind protection and outside noise reduction. Wood fences typically require more maintenance than other fence materials, but with proper care they can last for many years. Generally, cedar fences can last up to 25 years and longer if stained or preserved and require the lowest maintenance of any wood fence.
Wood is a natural choice for many applications because it blends naturally into a farm's surrounding while providing security.
4. Vinyl
Vinyl is one of the most durable fencing options—needing very little maintenance. It is both rot and corrosion resistant and is not affected by moisture. Steel-reinforced railings and UV protection make it a favorite of contractors for long-lasting, low-maintenance fence. In addition, today's vinyl offers a variety of choices in terms of style, color, and texture. It is growing in popularity for houses, apartment complexes, as well as business offices. Cost-wise, vinyl fencing can be more expensive than other options, but the higher cost is well-justified by its performance and durability characteristics.
Vinyl fences are great for providing both privacy and security in an attractive way. Pool enclosures, dumpster enclosures, entrances, and perimeter fencing are aesthetically appealing to the customers and anyone interacting with a business. A vinyl fence can last a few decades due to its many properties that outperform other fence materials.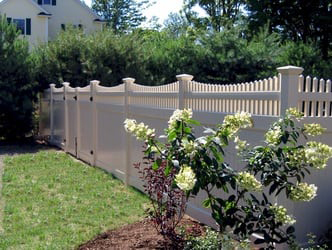 Whether you are looking to replace a privacy fence, enclose a pool or patio, or add landscaping features like a pergola, maintenance-free vinyl fencing from Bufftech® is a great choice made to survive the New England climate. Bufftech, a division of Certainteed, is a national leader in high-quality, low-maintenance vinyl fencing, perfect for many commercial applications. Bufftech's premium features, including high-quality raw materials, reinforced rails, heavyweight pickets, routed fence posts, and exceptional warranty ensure it will outlast and outperform other vinyl fences. Not only are there a number of different shades available, but also various textures to maximize a natural wooden look. CertaGrain sets the standard for the latest innovations in sophisticated vinyl fence styling.Contact AVO with vinyl fence questions you may have, and we will be happy to assist you with your next project!
Meet All Your Business Fencing Needs with AVO Fence and Supply
When it comes to quality fencing for businesses, AVO Fence is ready to meet your specific performance, appearance, and budget needs. Property managers, realtors, architects, and homeowners' associations rely on AVO to provide them with the highest quality materials, contractors, and personalized service. We work with you to find the best materials, fit, and function for your specific space. We can customize any materials you choose and design the fencing solutions that fit your needs. Get custom commercial fencing and enclosures that can enhance the privacy and security of your property while improving its curbside appeal. Contact us now to see how we can work together to make your next commercial project a long-lasting success!