Inexpensive Ways to Customize Your Cedar Fence
So you've decided to invest in a cedar fence to enhance your property, congratulations! Cedar wood is the smart, sustainable choice when it comes to wood fencing.
Here are five ways to easily customize your cedar fence without breaking the bank:
1. Universal Panels for Custom Cedar Fence
"Universal" fence panels are pre-manufactured at a set size (typically 8 foot width). Pre-made fence panels save you money by reducing the time needed for installation. The panels come ready to be attached to the posts, allowing the installer to skip the time-consuming steps of working rail by rail. AVO manufactures panels on-site at our wood fabrication shops, finishing each piece by hand and ensuring quality of materials.
TIP: If your yard is leveled with no abrupt elevation changes, then pre-made panels are a good choice for affordable, custom cedar fence.
2. "Scalloped" Curves for Custom Cedar Fence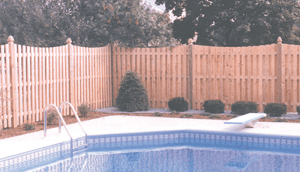 Scalloping is a technique used to create a unique curved look, adding flair to what might otherwise be just an ordinary cedar fence. You don't have to purchase a molded wood fence or hire someone to create a scalloped look for you. By planning in advance and making measured cuts, you can build a custom cedar fence with a scalloped edge on your own.
TIP: For a reverse scalloped look, make the center slat the longest and cut down the size gradually until you reach the end pieces. This creates fence panels that rise up to a point in the middle and drop down toward the edges.
3. Beyond "Off the Rack" Styles for Custom Cedar Fence
AVO makes it easy to dress up your cedar fence, going beyond the pre-made "off-the-rack" styles found at big box stores. We offer a number of standard wood board sizes, board edge types, and wood posts -- including pressure treated and cedar. See something you like? Bring in a picture and we can recreate the look for your fence!
TIP: Our Fences & Gates Idea Book is a great place to start browsing different fence styles. We also post recently completed projects on our Facebook and Houzz pages.
4. Topping Off Custom Cedar Fence
Decorative 1 x 2 cap strips can enhance the profile of your fence for little additional cost. Choose from a straight, scalloped, or convex profile.
TIP: Check out some topper styles in our Fences & Gates Idea Book and on our Houzz page.
5. Different Panel Grades for Custom Cedar Fence
Cedar wood fence panels come in different grades: Premium, #2 and # 3, which vary in price based primarily on aesthetics. By strategically placing the less expensive #3 panels on the back and in less visible areas of your yard, you can save a money while still installing a great looking cedar fence on your property.
TIP: Not sure how much of each type of material you'll need? Submit an RFQ online and our expert staff will work with you or your fence installer to make sure you save the maximum amount while still getting the look you want.
---
More than your local fence company, AVO Fence & Supply knows there is always more to learn when it comes to the latest tips, technology, and professionalism in the fencing industry. We're taking that expertise and sharing it here, to help you grow your fencing business. Start planning your next fencing project today at AVO Fence & Supply.