Choosing Lantern & Mailbox Posts that Complement Your Yard
Looking for that custom touch that will set your yard or garden apart? Our sturdy cedar, vinyl, or granite lantern and mailbox posts are a winning combination of beauty and function.
Best of all, you can customize and detail your posts to complement your fence or house trim! Below is information that can help you choose the right post material and style to suit your needs:
Lantern Posts to Light Up Your Yard
Lantern posts are a sturdy and secure way to install lighting around your property. Perfect for a fence perimeter, walkway or entry, an outdoor lantern light can provide aesthetic pleasure and added safety. Lantern posts can stand alone or be incorporated right into your fence for a seamless look.
Our lantern posts are made of long-lasting, weather-resistant cedar wood, vinyl, and granite. Cedar is a popular choice for a classic look, while vinyl gets rave reviews for its low maintenance. Granite lantern posts can complement historic homes or give newer ones a stately look. Choose a material that will complement the style of light fixture, and enhance the overall look of your outdoor living space.
You'll also want to consider how the posts look with other items in your yard such as your fence or mailbox post. Our lantern posts can be customized to order (base, finish, cap, engraving) and are much higher quality than the posts you'll find at big box stores.
Ready to light up your yard? Browse our lantern posts and get a free quote today!
---
High-Quality Mailbox Posts that Deliver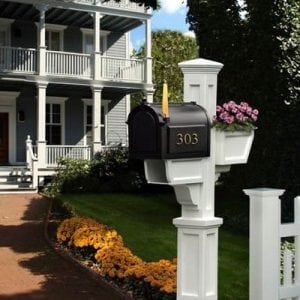 Enhance your home entrance with a mailbox post that provides both strength and elegance. Our sturdy cedar, vinyl or granite mailbox posts make a beautiful accent for any driveway.
Our long-lasting, weather-resistant materials can handle whatever the weather brings. Choose vinyl or cedar wood to match your fence. Granite mailbox posts can provide a sturdy, stately look.
Customize your mailbox post with the addition of a flower box, newspaper slot, or fixture to hang your street number. Customize your post's base, cap, bracket, and finish too. Granite posts can also be engraved to order. Your mailbox post will not only offer function and style, but provide the perfect place for you to add a seasonal accent!
Want to boost your mailbox style? Browse our mailbox posts and get a free quote today!
---
More than your local fence company. AVO Fence & Supply knows there is always more to learn when it comes to the latest tips,technology and professionalism in the fencing industry. We're taking that expertise and sharing it here, to help you grow your fencing business. Start planning your next fencing project today at AVO Fence & Supply.