What You Need to Know About Pool Fencing Requirements
A backyard pool provides homeowners with many benefits—including opportunities for relaxation, exercise, and entertaining friends and family. Pool fences provide security to keep pets and loved ones safe around pool areas. Unlike regular backyard fencing, pool fences have strict local and state safety requirements. Make sure to consult with your local zoning office or building department to understand the latest codes.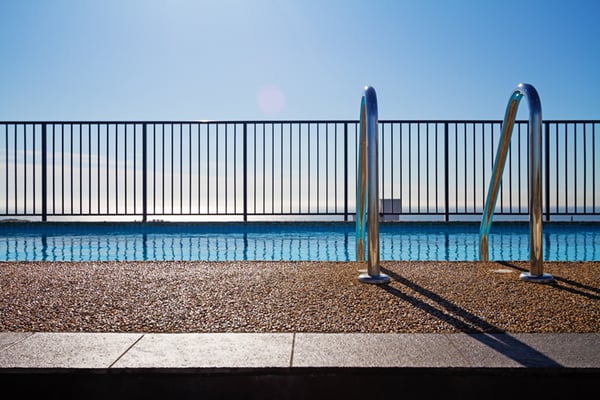 Here are four factors to keep in mind when you are installing a fence around your pool:
Height requirements:

State regulations for Massachusetts require all pools to be enclosed in a protective barrier (fence) at least four (4)

feet high. Local regulations may vary, so it is imperative that you contact your local building inspector to understand the specific pool code for your town.
Gates:

There are three requirements for pool gates. They must have a locking device

that needs to be positioned at least 54 inches from the ground so it cannot be reached by small children. Gates also must have

self-closing hinges

and must

open

outward

away from the swimming pool.
Rails:

Massachusetts requires that the openings on spaced vertical fencing should not allow the passage of a 4-inch ball. Under fence clearance should be no more than two (2) inches

. In addition, the distance between the top of the bottom rail and the top of the next rail must be no less than

45 inches

.
Materials:

Pool fences are available in a variety of materials. Availability varies between 4-6 weeks depending on the material.

Ornamental

:

Usually aluminum or steel, and available in a variety of styles, colors, and heights.

Vinyl

: Vinyl is a durable, low maintenance material and is offered in a variety of designs. Material costs for vinyl are higher than wood.

Wood

:

Wood is a traditional and cost-effective fence material. Cedar is a

durable, decay-resistant wood that tolerates the northern climate better than other species. Its stability means minimal shrinkage, twisting, and warping compared to other woods. While

Northern white cedar, the best and most common material for wood fencing in New England, remains difficult to source. While we are using several local suppliers, supplies are still limited. In addition, the U.S. has levied tariffs on cedar coming in from Canada. The tariffs, as well as the limited availability of white cedar, have led to increases in pricing.

Chain link/mini mesh

: Made from galvanized steel or aluminum, chain-link fencing is economical and low maintenance.
Note: If you are choosing between cedar and vinyl, refer to our extensive comparison for cedar vs vinyl fencing.
For even more information on pool fencing, click here for an extensive overview into all the aspects you need to consider.
AVO Is Here to Help
Your needs and design preferences will determine the right pool fence for your project. Looking for inspiration? Check out the images in this ideabook!
Whether you're looking for ornamental, vinyl, wood, or chain-link fence, AVO Fence & Supply is here to consult with you about materials and installation requirements to help you create the perfect atmosphere for your pool area. Give us a call at (781) 341-2963 today!