5 Factors to Consider Before Shopping for a Fence
A Step-By-Step Guide to Help You Choose the Best Fence for Your Needs
Having a fence around your property provides security and increases your property's value. Often, homeowners interested in setting up a fence for the first time find themselves questioning where to start. We've created this blog post to help you organize your fence planning project and choose a fence that will best suit your needs.
Where do you start? By considering these five factors, you'll ensure you have enough understanding about your fence wants and needs to contact your supplier (us!) for further help.
1. Decide on Purpose
The first step in choosing a fence for your home is to be clear on the fence's purpose. It seems obvious, but is necessary to have clarity on. This will help you determine what size and materials to consider and will guide you on general costs. If the sole purpose of installing a fence is to designate the perimeter of your property or keep your pet in the yard, a basic chain-link fence will probably be sufficient. However, if your goal is to add more security and privacy to your property, fencing made from wood or vinyl, with little to no space between boards, will probably work best.
Also, think about other considerations that might not be as obvious at first. Do you want to maintain some visibility of the fenced area or would you rather have a fence that lets you fully enjoy the outdoor space? Or, if you live in a lively area, perhaps you might want a tall fence for noise-blocking? Chances are it's a mix of things you need and want: you want to provide security for children and pets, but you also want to have a decorative style to improve your home's exterior. Whatever the purpose is, considering it first will help you narrow down your search and move forward to the next step.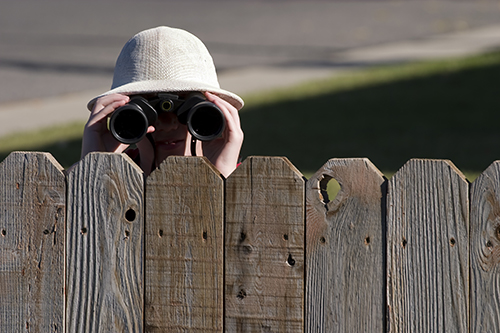 2. Acknowledge Neighbors
If you live in a neighborhood with a homeowner's association, be sure to check with your HOA's rules regarding installing, replacing, or repairing a fence for any specific requirements. You might find out that you need to obtain a permit, or that certain materials and sizes are allowed while others are not.
In case you do not have any strict neighborhood regulations, being considerate to your neighbors and their properties is always a good idea. Let them know you are planning to install a fence and see if they are fine with all the major specifications. This also provides an excellent opportunity to check your property lines, mitigating your neighbors' dissatisfaction after you've installed a fence.
3. Determine Fence Size
Your property lines will most likely determine what fence size you want. The information on your property lines in relation to your house, often referred to as a plat, should have been given to you when you purchased it. If you do not have that information, chances are your county's or city's website has your property's boundaries information. To determine an approximate number of linear feet of fencing your property requires, you can also try AVO's unique Measure My Yard Calculator that provides an easy way to get a rough measurement of your property's perimeter.
Also, be sure to check with utility companies for underground supplies and power lines to know how deep you can install a fence. You can do that by contacting Dig Safe organization that notifies participating utility companies of your plans to dig. In turn, these utilities (or their contract locating companies) mark out the location of their underground facilities. Contacting Dig Safe is important to avoid utility service disruption, and even required by law if you live in Massachusetts, New Hampshire, or Rhode Island.
As for determining fence height, your best starting point would again be considering what the primary purpose of your fence is. You might find that for a security fence, the height needs to be around six to eight feet, but if you want a fence to keep smaller dogs in the yard, a four-foot fence would be high enough.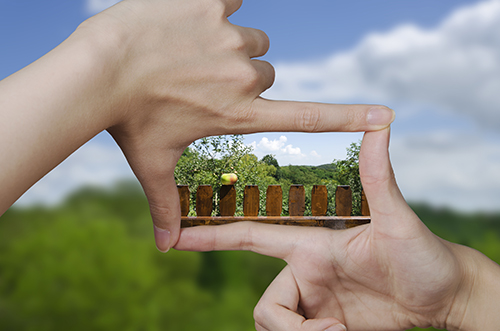 4. Choose Fence Material
The type of material you choose will impact important factors, such as cost, strength, and overall appearance of your fence. Notably, you'll want the type of fence that is durable to your climate and surrounding conditions. If you live by the coastal area, the actual material of the fence will play a key role in determining how long your fence will last in heavy weather conditions.
If ease of maintenance is your highest priority, vinyl fence is probably the way to go. With adequate care, a vinyl fence can last over 25 years. Vinyl fences come in a variety of styles and colors, from a classic white picket fence to privacy fences that look exactly as natural wood does.
Depending on your budget and style, another choice may be better. Cedar is one of the most durable wood fence materials and a good choice for the four-season New England climate. Generally, cedar fences can last up to 25 years and longer if stained or preserved, and requires the lowest maintenance of any wood fence. Read more about the pros and cons of vinyl vs. cedar.
If a natural wooden look is not one of your top priorities and you decide to go with an alternate fencing material, you have plenty of options. A lightweight and affordable aluminum or a chain-link fence offers homeowners a long-lasting and classic look that is perfect for showcasing beautiful landscaping. Whatever material you lean towards, be sure to consider all available options and think about the purpose your future fence will serve you.
5. Decorations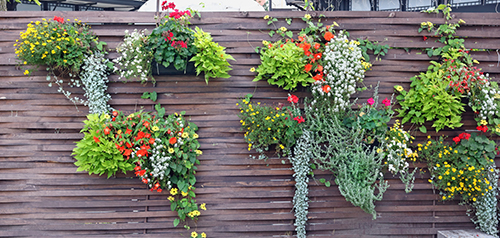 Finally, consider if you want a fence that has a decorative style to further complement a beautiful landscape. You can choose a fence with decorative tops, such as lattice or chestnut, to give extra interest to a traditional privacy fence, or dress up a plain picket fence with garden art, decorative posts, or finials. If you opted for a wooden fence, you might also want to paint it to a contemporary color. Planting a row of flowers in front of your fence will create a truly welcoming facade. You can even take decorating your landscape further by pairing with a matching arbor, pergolas, and gate.
Curb Appeal
There are many ways to add curb appeal to your property with your style of fence and decorate it in a way that shows off your unique personality. Take the time to envision your perfect fence and do the necessary research, and your fencing project will turn into a rewarding experience.
When it comes to planning a fence project, AVO is here to help. You can view our full catalog or quickly sort choices by material, use, or type, or get inspired with our online fences and gates idea book. If you need help figuring out what material to choose and how much of the materials you need, you can email or fax us a drawing of the project area and we will be happy to provide you a consultation. Please indicate which style(s) you are interested in by referencing a picture from our website or brochure. Once we establish how much fence is needed, we can offer suggestions on style, selection, and price. Please contact us with any questions you have along the way!