Homeowners FAQs for Fencing: You Ask, We Answer
DYI or Installed, Here Are the Answers that Will Help You Get Started!
We frequently get similar questions from customers shopping for and selecting fence.
While we never get tired of sharing helpful answers, we think it's useful to post some of our answers here so that they are easily accessible.Who knows, you may even get the answer to a question that you didn't know you had!
I see the fence I want in the catalog, but I need it in a different size.
You're in luck! One of the benefits of purchasing directly from the manufacturer (us!) is that you can request that your fencing materials be custom cut to fit your specific project. Our fence specialists will also work with you to determine the appropriate dimensions if you are taking on a DIY project or are new to fence installation. Choose one of three options: send us a note about customization in your request for quote online, contact us by phone, or stop into any one of our three convenient locations!
Will one material last longer than another? Which fence style is strongest?
These are great questions. If ease of maintenance is your highest priority, vinyl fence is probably the way to go. With adequate care, a vinyl fence can last over 25 years, and all of our Bufftech® vinyl fence products come with a limited lifetime warranty. Depending on your budget and style, another choice may be better. Cedar is our most durable fence materials and a good choice for the four-season New England climate. Generally, cedar can last for 15 to 25 years with some repairs necessary, and requires the lowest maintenance of any wood fence. Read more about the pros and cons of vinyl vs. cedar.
I live near the water. What is the best kind of fence for a coastal area?
In areas with heavy weather conditions, a quickened decay of fences due to rust and corrosion is a common problem. When choosing an oceanside fence, the actual material of the fence will play a key role in determining how long your fence will last in heavy weather conditions.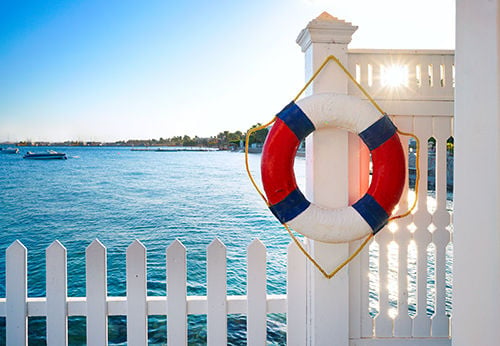 Cedar is one of the most popular materials for coastal areas due to its visual appeal and a natural resistance to moisture. On the coast, however, cedar would still need protection from salt and sun; you may incur additional recurring maintenance costs for restaining or repainting.
Another well-suited material for a coastal area is vinyl. Fencing made of vinyl will not be affected by moisture, as plastic is tough and resistant to the effects of sand and salt.
Finally, if a natural wooden look is not one of your top priorities, lightweight and affordable aluminum can be your best choice for a coastal area fencing. Aluminum requires very little maintenance and can stay fresh and corrosion-free for a long time due to its highly weather-resistant properties. The conditions of coastal living will generally be hard on any fencing—but that being said, it is possible to have a beautiful, protective fence for years to come that does not require too much upkeep.
Does AVO sell cedar pickets individually, or do I have to purchase a panel/section?
We sell both individual cedar pickets and panels. Purchasing individual pickets is helpful when a customer needs to make a repair. For DIY homeowners, be aware that building your own fence panels out of pickets takes a lot of time and effort for a small cost savings. Read more about our cedar lumber.
Do you carry pressure-treated fence posts?
Yes, we carry an extensive line of pressure-treated southern yellow pine. Our normal in-stock pressure treated fence posts include 5" round and 5x5 square posts and are available in 8′ and 10′ lengths­­­. Our wood posts are pressure-treated for ground contact to protect from prolonged exposure to ground moisture, fungal decay, and insect infestation. Click here to view our selection of mailbox posts.
Do you offer a warranty on your fences?
Yes, we do! Our vinyl fences are protected by Bufftech® CertainTeed protection for a period of five years after installation. CertainTeed warrants the fence product against excess fading beyond normal weathering if caused by a manufacturing defect. Read more about the Bufftech® Vinyl Limited Lifetime Warranty here.
Can you stop by and give me a quote? Do you conduct onsite consultations?
We do work with homeowners in the design and planning of their fence projects by phone or in our office. We do not perform onsite consultations or fence installation services ourselves. We're happy to provide you with a list of approved fence installers in your area. Here's more information for homeowners.
How far away do you deliver?
AVO Fence & Supply services and delivers fencing materials to Cape Cod, the North Shore, South Shore, and Metrowest. Our trucks will also deliver to Rhode Island, New Hampshire, and Connecticut within a 150-mile radius of our yard­­. For those outside of our New England fence delivery area, we use a commercial shipper. Click here to learn to the benefits of direct fence delivery.
Stay tuned for more FAQs posts and updates, including one geared towards contractor FAQs. Have a question you want to see answered in a blog? Contact us and let us know!