How to Install a Vinyl Fence
This post is one of a few in our "How to Install a Fence" series. Check out our other posts for a complete fence installation guide.
How to Plan Your Fence Project
How to Install a Fence in 7 Easy Steps (Using Concrete)
How to Build a Wooden Fence Step by Step
Installing your own fence can seem daunting – but with the guidance of the professionals at AVO Fence & Supply, it does not have to be. We have a variety of vinyl fencing styles to choose from and all of our Bufftech vinyl fence products carry a CertainTeed lifetime warranty against manufacturing defects. This guide breaks down the basic steps for DIY vinyl fence installation.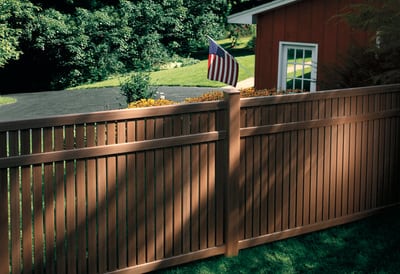 Step 1. Mark out the fence location.
Use spray paint to mark the locations of the corner post holes. Mark the locations of the remaining line posts, keeping the distance between the posts evenly spaced.
Step 2. Temporarily set the posts.
Using a post hole digger, dig holes approximately 24" deep and 10" in diameter. Add a few inches of gravel to the bottom of the holes for drainage. Insert corner posts in holes. Ensure the posts are level and plumb. Brace the posts on each side with an upright 2' x 4'.
Step 3. Mark the fence line.
Run a string line from the top edges of the corner posts. Make sure the string is taut and level. This provides a guide to ensure that the posts are all installed at the same height. Install remaining line posts checking that each is plumb and at the same height as the corner posts.
Step 4. Assemble the Fence Panels.
Vinyl fence panels are comprised of a bottom rail, top rail and slats. Assemble them according to manufacturer's instructions. Snap the ends of the top and bottom rails into the appropriate holes on the fence posts.
Step 5. Permanently Set the Posts.
Mix fast-drying cement according to manufacturer's directions and pour in holes. Leave the 2" x 4" bracing in place overnight while the cement cures. Remove the bracing. Apply PVC cement to the inside of the post caps and then install atop posts.
TIPS:
After each section of posts and panels is added, observe--you may need to lower or raise posts by prying them out and re-tamping.
If your fence has gates, follow specific instructions for installing them.
Whether you are a DIY homeowner or a new contractor looking to break into fence installation, you can rely on the fence experts at AVO. In addition to providing you with all fencing materials needed at the best possible price, we will also provide you with detailed instructions-and we'll be here if you have any questions!
Are you ready to get started on your DIY fence project? Call us at 781-247-5236 or visit us at any one of our 3 convenient locations and we will be happy to assist you.
---
More than your local fence company. AVO Fence & Supply knows there is always more to learn when it comes to the latest tips, technology and professionalism in the fencing industry. We're taking that expertise and sharing it here, to help you grow your fencing business. Start planning your next fencing project today at AVO Fence & Supply.