Good Neighbor Privacy Fence Designs
Good Fences Make Good Neighbors - and Great Backyards
"Good fences make good neighbors" is a quote from Robert Frost's much anthologized poem "Mending Wall".
Here at AVO, we like to think that the right fence provides just enough separation to bring neighbors closer together. If you think that sounds like a contradiction, keep reading below to find out how our different styles of fence can keep people on both sides happy!
What is a Good Neighbor Fence?
Basic fence etiquette means that you should put the finished side of the fence toward your neighbor. If you'd prefer not to look at the "ugly" side of a standard wood privacy fence (the side with backing rails), consider good neighbor fence styles that look the same on both sides.
Good Neighbor Fence Designs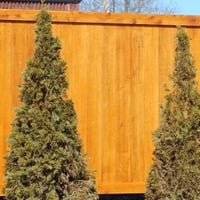 Universal Panels
We typically refer to these as 'universal panels', as seen in our Gloucester and Barrington wood fence product lines. You and your neighbors can both enjoy the clean, consistent look and full privacy that universal panels provide.
View Board Screen "Good Neighbor" Fence
The Beauty of Board on Board
If you'd prefer your yard to appear more open and relaxed rather than sealed-off, our board on board fence style is another good neighbor choice. Thanks to alternating fence boards, it offers moderate privacy and security while letting visible light through. When seen head-on, board on board may appear as opaque as a solid style fence. However, when viewed from the side, it offers just enough visibility to wave to your neighbors.
View Board on Board "Good Neighbor" Fence
Loving Lattice
Lattice fence is designed to offer moderate privacy with eye-catching lattice pattern work. It's a popular way to define a garden, entrance, or yard perimeter without creating a total screen, and adds a touch of country charm to any landscape. Like board on board, lattice fence offers moderate privacy and security while letting maximum visible light through. Don't be afraid to mix and match styles; lattice also creates a beautiful accent as a topper on our board screen panels!
View Lattice "Good Neighbor" Fence
---
More than your local fence company, AVO Fence & Supply knows there is always more to learn when it comes to the latest tips, technology, and professionalism in the fencing industry. We're taking that expertise and sharing it here. Start planning your next fencing project today with AVO Fence & Supply.