How to Maintain Your Wood or Vinyl Fence
Protect Your Investment and Extend the Life of Your Fence
Installing a new fence can make your property more visually appealing and can serve many functions, such as protecting your pets, improving security, and creating privacy. With proper maintenance, the typical 15-year lifespan of a wood fence can be extended to 20 years or more. Vinyl fences can last for 30 years, but with proper care, you can add at least another 10 years to their lifespan. Whether your fence is built from wood or vinyl, investing time in routine maintenance can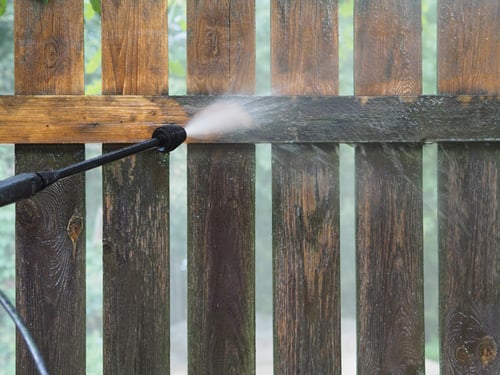 extend its life and help you maximize your investment. Follow these recommendations to get the most from your wood or vinyl fence.
Routine care for your wood fence
* Inspect annually
Check for any loose nails or screws and tighten them. Replace damaged boards, and seal any splits, chips, or cracks with waterproof wood glue. Check each section of fence to make sure it is securely attached to the next. If a section is leaning, ensure the posts are seated firmly in the ground. If posts are in poor condition, replace them. Examine your gates to make sure hinges and locks are secure and properly aligned. Minimize exposure to moisture by adjusting sprinklers, and trimming bushes and vines. Ensure proper drainage by checking that the soil at the base of each post is firmly packed and slopes away from the fence.
* Clean regularly
Every two to three years, wash your wood fence by applying a cleaning solution, then rinsing it off. Scrape off any moss or peeling paint. To remove mold spores and prevent them from growing back, mix a solution of bleach and mild detergent and spray on the fence an hour before rinsing off with a hose or a pressure washer.
* Reseal or paint
Wood fences require regular staining or sealing to prevent water and insect damage. A new pressure-treated fence should be allowed to dry out for 6-12 months before staining or painting, otherwise, you may seal in moisture that will lead to wood rot. An exterior oil-based stain, preservative, or latex paint should be reapplied every 3-5 years to seal out moisture.
Routine care for your vinyl fence
* Inspect annually
Vinyl fences are virtually maintenance-free, but they should be inspected regularly to spot any damage. The best time to do this is before winter so the fence can stand up to high winds and moisture of the colder months. Look closely at posts, panels, and horizontal rails. Tighten any loose screws and replace missing post caps. Check the stability of fence posts and panel joints and inspect any gates. Bad weather can cause dents and scrapes in vinyl fences, which can become permanent unless repaired promptly. Dents and scratches can be repaired with a vinyl fence patch kit. Make sure to follow the directions carefully and use the correct tools.
* Clean regularly
Vinyl fences should be washed annually. Use a cloth soaked in warm, soapy water to gently remove dirt and grime, and rinse with a hose. Or use an all-in-one detergent made specifically for use with a pressure washer. Any traces of mold or mildew should be removed to prevent the vinyl from looking splotchy, and eventually, making the vinyl weak. Use a brush and mild detergent; if the mold is severe, use a solution of detergent and white vinegar mixed with a gallon of water, and rinse with a hose. Tougher stains such as tar, grease, or rubber marks from lawnmower tires can be removed with paint thinner applied with a soft cloth.
* Remove hazards
Overhanging branches can damage vinyl fences, especially during severe weather. Make sure trees or bushes near your vinyl fence are trimmed back to avoid scratches, dents, or other damage. Pebbles, stones, and gravel can also cause damage to vinyl over time. Avoid placing these materials on your fence.
Start planning your next fencing project today!
AVO Fence & Supply knows there is always more to learn when it comes to the latest tips and technology in the fencing industry. As a provider of high-quality fencing materials and supplies, we are dedicated to sharing our expertise with homeowners and contractors in the New England area. Give us a call today at (781) 341-2963.