Repair, Not Replace - Tips to Fix Up Your Fence
When and How to Repair Your Fence
Fences are durable structures, but they also live outdoors year round, making them susceptible to weather and damage from large debris or vehicles.
If your fence isn't looking as fresh as the day it was installed, don't fret. AVO supplies all fence components (pickets, boards, rails, posts, caps), giving you the option to repair rather than replace your fence. In most cases, repairing your fence will be cheaper and easier than an all-out replacement.
Make a plan to address any repairs during late spring, summer or fall. Use our handy guide below for tips on when and how to repair your wood or vinyl fence.
How to Repair a Wood Fence
Signs that your wood fence needs repair include warping or splintering. Carefully inspect your fence to determine what has caused the damage. In some cases you may be able to mitigate further damage by redirecting pooling water or eliminating wood destroying insects. Use wood filler or putty to patch any small holes or cracks in the fence. For warping or more severe damage, you should replace the affected boards or rails.To do that, remove broken pieces by hammering and prying them away from the rails and pull out any nails. Set the new board or picket against the rails, align it, and nail it firmly into place with galvanized nails.
Contact AVO to purchase replacement wood panels, rails, pickets, or caps.
TIP: If you'd prefer your replacement wood to not contrast with the older, weathered wood, AVO does have a supply of weathered (gray) wood for sale on the lot!
How to Repair a Vinyl Fence
While vinyl fence is very low-maintenance, it can still sustain damage, especially when subjected to the weight of heavy winter snows or when hit by large debris or a vehicle. One of the most common issues is vinyl cracking.
If you find a crack in your vinyl fence you should plan to replace that part. Depending on your fence that may mean an entire panel or an individual picket. Contact AVO to purchase replacement vinyl panels, rails, pickets, or caps.
TIP: Vinyl fences should be pressure washed periodically to maintain a new look.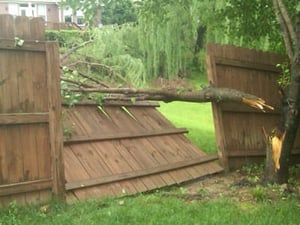 When It's Better to Replace Your Fence
If you have to replace more than 20% of the fence panels or pickets, it's time to replace the entire fence.

If the cost of repair is equal to or greater than the replacement cost, you'll be better off opting for the new installation.

Fences have a natural lifespan, so if your wooden fence is more than 20 years old, or if your metal fence is more than 25 years old, it may be time to start fresh.




More than your local fence company, AVO Fence & Supply knows there is always more to learn when it comes to the latest tips, technology, and professionalism in the fencing industry. We're taking that expertise and sharing it here, to help you grow your fencing business. Start planning your next fencing project today at AVO Fence & Supply.