The Anatomy of a Fence
What You Need to Know About Pickets, Boards, Rails, and Posts
Fences have many purposes. Some provide security—such as pool fences—others are designed to mark the boundary of a property in a decorative manner, and some are functional, such as horse pens. And often, they serve a combination of purposes!
Regardless of type, all fences share the same anatomy—they are made of posts, rails, and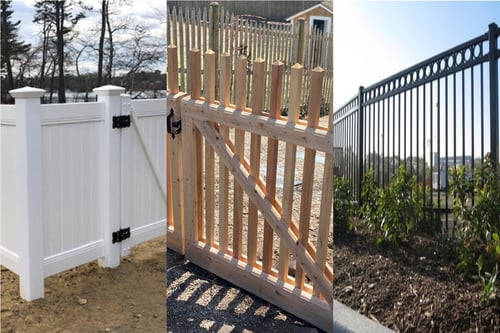 either boards or pickets. The following is a guide to the components that make up a fence, and the decisions homeowners need to make before a fence installation.
Pickets and Boards
Pickets and boards make up the most visible part of a fence. They are the vertical pieces that attach to horizontal rails to form the body of the fence. The difference between them is that boards are flat on both sides, while pickets, if made of wood, have a rounded curve on one side. In general, boards are wider than pickets.
Pickets:
Made of wood, vinyl, iron, or aluminum

Wooden pickets available in three grades: 1, 2, or 3

Flat, or pointed top

Usually 2-7/8 inches in width
Boards:
Made of wood, vinyl

Wooden boards available in three grades: 1, 2, or 3

Flat, rounded, or pointed top

Between 2 to 6 inches in width
Rails
Rails, also called backer rails, run horizontally between the posts of a fence. The number of rails depends on the style and height of a fence. Rails are part of the support structure to which the pickets or boards are attached, and can be made of wood or vinyl.
Posts
Posts are vertical pieces that are set into the ground to form the backbone of the fence, ensuring stability. They are available in many materials, including wood, vinyl, iron, metal, and granite. Cedar or pressure-treated wooden posts are available in round or square shapes. Round posts are available in either king or peeler. King posts are formed from the top part of a tree. They are the most conducive to pressure-treating, but have more imperfections, such as knots. Peeler posts—made from the bottom of a tree—have fewer flaws, but because the wood is typically harder, pressure-treating does not penetrate as well.
Materials and Costs
One of the most important decisions for homeowners is the type of material to be used for their fence. Is durability more important than appearance? Wooden fences can be made of pressure-treated spruce or cedar. Cedar will last longer than spruce, while pressure-treated panels tend to warp and twist. Cedar is considered to be the most attractive of the different woods.
What about cost? Metal chain-link fences are the least expensive, with the price of vinyl and wood being approximately the same. Ultimately, the cost of a fence is driven by the number of post holes that need to be dug, and whether they need to be sunk into rock ledge.
Topography
Homeowners can inspect the terrain to identify whether ledge is present in the area to be enclosed. Look for steep hills or the high point of the landscape and observe any outcropping, which is a sign that rock is located there, like the tip of an iceberg. Most people have a combination of terrain on their property.
Because special equipment is needed, the price of installing a post in ledge doubles the cost of each post. A hole needs to be drilled into the ledge to accommodate a metal pipe so the post can slide down over it. Whether or not ledge is present, the terrain determines the installation, as fences can be stepped or bent to follow the geography of the area.
Hardware
Depending on the type of fence, homeowners may also need to decide which latches, handles, hinges, and brackets should be installed.
Start Planning Your Next Fencing Project Today!
AVO Fence & Supply knows there is always more to learn when it comes to the latest tips and technology in the fencing industry. As a provider of high-quality fencing materials and supplies, we are dedicated to sharing our expertise with homeowners and contractors in the New England area. Give us a call today at (781) 341-2963.