How to Choose the Best Pressure-Treated Post for Your Fencing Project
Not all wood is the same and not all posts are created equal. Even the posts originating from the same mill and pressure-treated in the same way can differ in certain parameters.
There are two types of round posts we carry at AVO: peeler core rounds and king post rounds. Read on to learn about the characteristics of each and decide which one better fits your fencing needs.

Before we jump to the differences between the post rounds, it's important to note that both the peeler core rounds and the king post rounds are made from Southern yellow pine (SYP) wood, which has a better cell structure for pressure treatment compared to other pine types. Therefore, both types of posts are a great choice for fence building and strong enough to hold up a fence for years to come.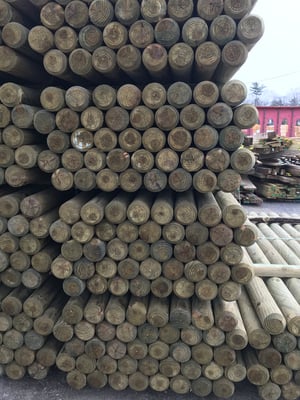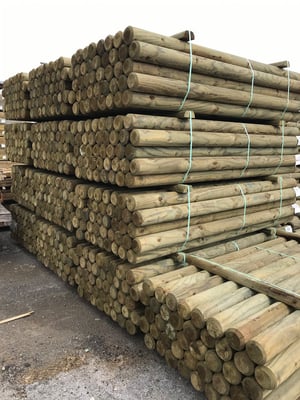 5'' x 8'6'' Peeler Core Blanks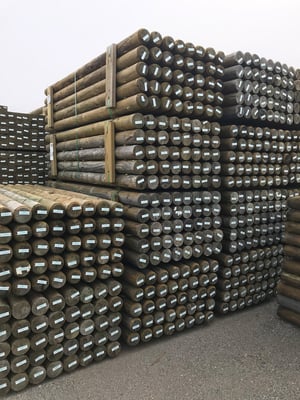 5'' x 9' King Posts
Pressure-treatment acceptance
The peeler core post is a byproduct of plywood production. The plywood mills shave off the layers of the tree for the plywood layers, then the rest is sold off to the fence industry. Typically, the remaining portion is the center of the tree, often called heartwood. While there is some sapwood around the center heartwood, it can be a variable amount and will differ for each individual post.
Alternately, king post rounds are typically the tops of a larger tree and these posts usually have more sapwood, which comes from the outer layers of recently formed wood between the heartwood and the bark. Sapwood contains cells that can be treated well with traditional treating methods used by SYP treating facilities. Both peeler cores and king posts are treated by Alkaline Copper Quaternary (ACQ) NatureWood® preservative system for ground contact.
Warranty Guarantee
Due to the ability of king posts to accept pressure-treatment better, they have been independently tested and covered by U.S. Lifetime Residential and Agricultural Limited Warranty against structural damage caused by decay and termites.
Post Length
The king posts carried by AVO are a full 9 feet in length, making them perfect for installing 6-foot fences with 3 feet below the ground for a more secure fit. The peeler core rounds are 8 feet, 6 inches long, which is a pretty common length that still works great for fence installation; however, having those extra inches can make a huge difference in certain fencing projects.
Price
Fence installation is an investment, and for many homeowners price will play a primary role in their decision. Peeler core posts are a more economic option when considering the up-front costs of fence installation. King posts cost more up-front, but will likely require less repairs and maintenance over time. If lifetime cost is a primary factor, king posts are more cost competitive than peeler core posts.
Other Characteristics
Both peeler core and king posts are 5 inches in the diameter and can be ordered blank or already drilled.
At a Glance
Here is a brief comparison of the qualities of the two post types that might help you decide which one to choose for your fencing needs:
| | |
| --- | --- |
| Peeler Core posts | King posts |
| Good pressure-treatment acceptance | Superior pressure-treatment acceptance |
| 8' 6'' long | 9' long |
| No warranty | Limited warranty guarantee |
| Less upfront cost | More upfront cost |
| More maintenance | Less maintenance |
Here to Help
If you're interested in learning more about the fence post types, give us a call or drop into our Stoughton showroom and we will be happy to provide you with more information.
More than your local fence company, AVO Fence & Supply knows there is always more to learn when it comes to the latest tips, technology, and professionalism in the fencing industry. We're happy to share our expertise with you. Ready for that new fence? Contact us now and let's get started on your next fencing project today!