Domestic Versus Imported PVC Fence
Comparing the Differences Between Domestic Vinyl Fences and Chinese Imports
Everyone likes savings, but more often than not, discounted items come with tradeoffs if not additional cost. In case of imported fencing, almost all of which comes from China, there are various factors that need to be considered before deciding in favor of a low-cost fence. After all, do you actually save by buying an imported fence? Below we discuss three factors to consider when choosing between imported and domestic PVC (vinyl) fences and why American-made fences are worth the investment.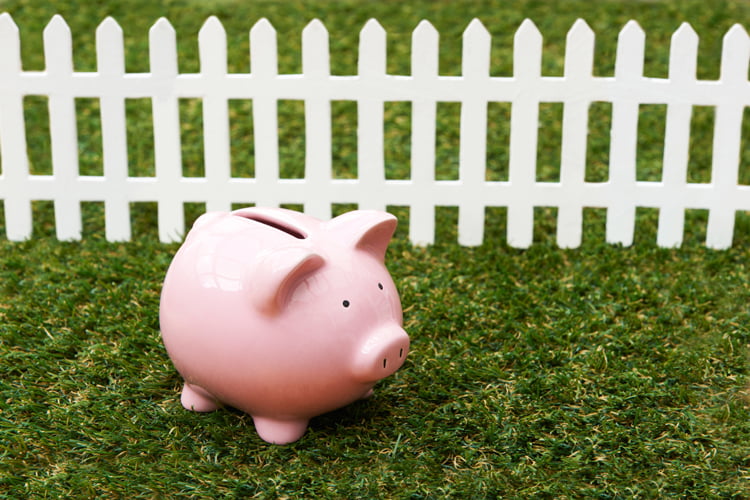 Helpful Reading:
Quality
First and foremost, you want to ensure that the fencing you buy will stand up through the harshest conditions and last for years—better, decades. When judging the quality of imported fences, there isn't a definitive answer as to whether they are a lower quality than the American-made fence. However, in general, Chinese regulations on the containment of harmful elements do not follow the same high standards as in the United States. Therefore, there's a higher chance that imported vinyl may contain higher levels of harmful elements, such as lead.
Furthermore, there is no guarantee that imported fences have a correct mixture of UV stabilizers to help fences stand up to sun exposure over time, or that they have the right impact modifiers to help strengthen the fence and keep it from shattering upon impact.
This is especially important in coastal areas like New England, where summers are hot and humid, and winters are stormy and cold. A good vinyl fence will have the strength and flexibility that allow it to absorb the impact from everyday run-ins with lawn mowers and tree limbs, reducing the chances of sagging or bowing, and can last over 25 years. A lower quality PVC fence will need to be replaced much sooner, ultimately adding to the initial cost of the fence.
Availability & Supply Chain Complexities
One of the important drawbacks of buying an imported fence is the fact that the product is shipped internationally. That means that a domestic supplier buying from Chinese manufacturers has to purchase by the shipping container load, which can cost anywhere from $30,000 to $70,000, depending on the size of the container. In addition, it takes about six to eight weeks to receive a product—so if you needed to match up a fence, you would have to wait for the supplier to obtain more of the required fence materials. More importantly this added import cost is made up somewhere—typically by lowering the quality of raw materials.
Customer Service Expectations
Lastly, working with Chinese manufacturers can also mean differences in customer service expectations. Suppliers working with Chinese fence manufacturers often find that they are not particularly responsive to customer questions and concerns. Their American counterparts, on the other hand, tend to be very responsive to those issues. If, after all, you decide to purchase an imported fence, make sure to agree with a domestic supplier that if problems do arise, it's their responsibility to deal with the situation personally.
Find What Works for You
In the end, buying an imported fence is not always a bad decision, but it certainly is more of a complicated process than one can expect. In some cases, it might be worth it, but more often than not, the financial savings (if any) will not be worth the stress, time, and the hassle of dealing with foreign manufacturers. Purchasing domestic fence materials generally provides a much smoother and more dependable experience with better customer service.
The Bufftech Advantage
When it comes to vinyl, AVO chooses Bufftech products for the highest quality materials—plus an unbeatable warranty. A building industry leader for over 100 years, CertainTeed stands behind the Bufftech line with the exceptional SureStart™ protection for performance, including labor; lifetime limited warranty; and ColorLast® fade protection for colors and stain blends.
Here are some of the many advantages of Bufftech PVC fences that make them outlast and outperform the competition:
Made in the USA

Lead-free

Contains no harmful chemicals

Sourced from high-quality raw materials

Rated Class A for flame spread

Self-extinguishing

Protected by a strong, transferrable warranty (lifetime for residential, 30 years for commercial)
In addition, not all fence product warranties are the same. For example, many fence manufacturers offer a limited lifetime warranty but do not cover labor costs to remove and replace a defective fence. By selecting Bufftech® fence, you will gain peace of mind knowing that you and your home are protected for a lifetime.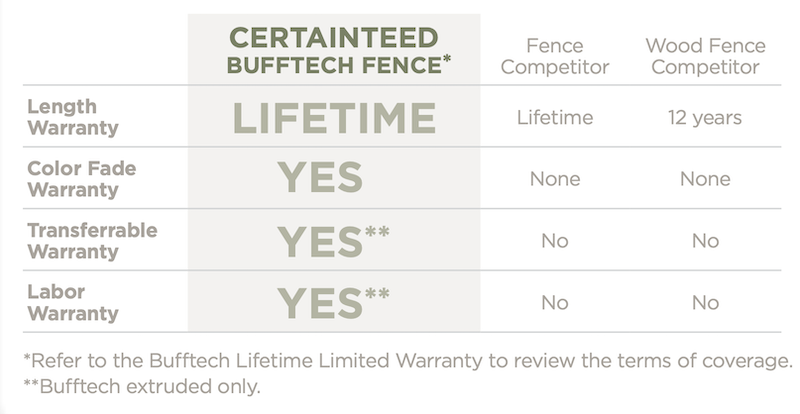 Bufftech's premium features, including high-quality raw materials, reinforced rails, heavyweight pickets, routed fence posts, and exceptional warranty ensure it will outlast and outperform other vinyl fences. Contact AVO with vinyl fence questions you may have, and we will be happy to assist you with your next project!