Latest Must-Have Tools for Installing Fences
Must-Have Fencing Tools for a Quick and Easy Installation
Installing fences is no easy job. The good news is that with the excellent fencing tools available today, assembling and installing a fence gets done much quicker and with less sweat.
Listed below are the fencing must-haves that will help you get the job done smoothly and efficiently.
Auger with Engine

Digging postholes is the biggest—and most vital—step in most fence-building projects. Instead of digging holes with a pickaxe and shovel, you can get an auger with an engine to quickly create the standard holes required for corner and line posts in most types of soil. As an example, you could get a gas-powered earth auger by Harbor that is able to power through tough soil with 45 ft. lbs. of torque and has fast drilling speeds up to 320 RPM. Or, you could get a manual type that requires twisting as you dig. Whichever you choose, an auger will help you go down the correct depth and remove the correct amount of soil for each post.


Clamshell Post Hole Digger

If you prefer the old-fashioned way, a clamshell post hole digger is an efficient tool for removing the loose soil from the bottom of a post hole. While heavy-gauge models look good in the store, they require more strength to operate—a small and lightweight option will be much easier to use. Usually, clamshell post hold diggers allow to dig holes 3 to 4 feet deep—going deeper would require more room in the hole for the handles to separate and remove the loose soil.
One example is the Fiskar 60-Inch Steel Posthole Digger that lets you dig postholes up to 12 inches deeper than traditional models and protects your knuckles while you dig. There are also many other posthole diggers, so doing your research and determining which one is best for your needs will bring the most benefit.
Boston Post Hole Digger
The Boston post hole digger is best suited for use after drilling with an auger to remove small rocks, debris, and loose dirt from the bottom of the hole. The tool has a long hardwood shaft with a sturdy fixed scoop at its business end. It is especially useful when there is a need to dig deeper without widening the top of the hole. Boston post hole diggers can easily go down 3 to 4 feet deep into holes as narrow as 8 inches.
Multi-Purpose Fencing Pliers
Multi-purpose fencing pliers are a must-have tool for building and repairing wire fences. They can be used to extract or insert fence-post staples, and cut, splice, or stretch wires to simplify fence fixes. Commercial-grade hog ring pliers, such as Malco's, provides a combination of a hammer, wire tensioner, staple remover, wire cutter, and splicer. This one tool can be used to accomplish a variety of tasks when installing aluminum or galvanized steel wire fences. With an automatic plunger feed, it eliminates the need to manually rotate the magazine out of the way when the mechanism brings a ring forward.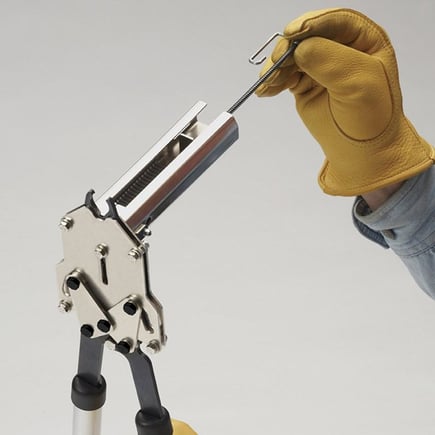 Vinyl Fence Notching Tools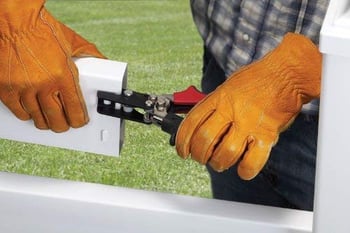 Vinyl fence notching tools eliminate the need for lock-rings when installing vinyl fence rails into posts. The handy vinyl fencing tool crimps notches into the rail and replaces the regular lock-rings. By creating louver-shaped tabs in the end sections of vinyl fence pickets or rails, the notching tools facilitate a durable lock, which prevents the picket or rail from pulling out of the joint opening during inclement weather. The Malco VFN2 notcher offers a powerful 7:1 mechanical advantage of compound leverage head-to-handle linkage, ensuring comfortable one-handed operation.
Routing Kits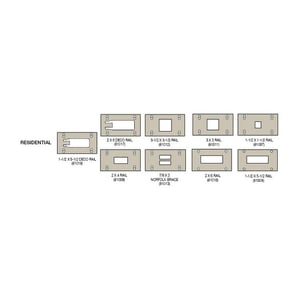 Routing kits come with various templates that allow to route a variety of holes that will accept the fence or railing profiles. If you have fence installation job that requires stepping or racking, or transitions from one height or style to another, a routing kit will simplify the installation process. Case in point, the Residential Post Routing Kit by Bufftech includes all routing templates for the residential line of the premier quality Bufftech Vinyl Fence Styles. This kit is primarily for use in the field and allows you to route vinyl posts.
Bufftech is a national leader in high-quality, modern vinyl fencing, and AVO Fence and Supply is a proud distributor of the Bufftech vinyl fence line.
Got a question you want to see answered on the blog? Contact us and let us know!
More than your local fence company, AVO Fence & Supply knows there is always more to learn when it comes to the latest tips, technology, and professionalism in the fencing industry. We're taking that expertise and happy to share it here. Ready for that new fence? Contact us now and let's get started on your next fencing project today!