How a Fence Can Increase Your Property Value
Your Return on Investment Depends on Several Factors
When homeowners consider installing a new fence, they are naturally interested in whether it will add value to their property. The good news is that a fence can add value, but it depends on a wide variety of factors. To begin, let's look at the reasons property owners decide to put up a fence in the first place.
Installing a fence can:
Increase curb appeal

Improve security

Enclose a swimming pool area,

per regulations

Provide an enclosure for pets and children

Create privacy

Mark property lines

Reduce ambient sound

Reduce wind and sun exposure to better manage utility bills

Screen from unattractive sights

Protect lawn and pets from wild animals
The reason a fence is being installed is a key component in how much value it will add to your property. But there are other elements that may factor in just as much.
Construction, Materials, and Maintenance
The proper installation of a fence has a huge impact on the value of a property. Done well, fences can maintain their curb appeal and stand up to the elements for many years. A DIY fence project may seem tempting, but if the resulting construction is of poor quality, it can actually reduce a home's resale value. In the long run, any initial labor savings may be offset by additional investments that need to be made later. To get the most value from your fence, have it professionally installed.
The quality of the materials used to build your fence is also a factor in the potential added value of the property. Vinyl materials are generally more expensive, but result in a higher property value. Wooden fences can also contribute value, as long as they are routinely maintained.
Wood fences require regular staining or sealing to prevent water or insect damage that may affect their structural integrity. And vinyl fences need maintenance too. They should be washed regularly, and any traces of mold and mildew should be removed. Branches from trees or bushes should be trimmed back to avoid scratches, dents or other damage, and any repairs should be made promptly.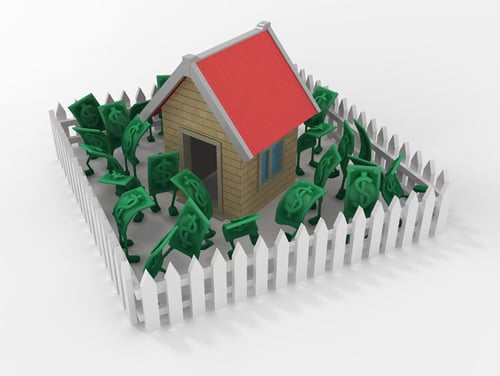 Style and Neighborhood Trends
Choosing a style of fence that matches the style of the home affects both curb appeal and resale value. A historic home with a stockade fence may look as odd as a glass and chrome modern-style house with a picket fence. Make sure to select a fence and materials that complement the style of your home to get the best return on investment.
The trends and aesthetics in a particular neighborhood contribute to resale value as well. Do other homes have fences? You don't necessarily want to be the only one in the neighborhood with a fence, or to have a fence that is of a completely different style than all the other homes in your area. A neighborhood homeowners association may also have regulations that dictate the materials and style of your fence. Before installing a fence, you may want to discuss the style with neighbors who will see it on a daily basis. You don't need their approval, but you should consider the impact your fence will have on your neighbors.
Fence ROI Compared to Other Home Improvements
Most realtors agree that a fence adds resale value to your property, in particular, if potential buyers have pets or small children. In general, you can get a higher price because buyers consider a fenced property to be desirable. What rate of return can you get on your investment? Be aware that you will not be able to recover the full cost of your fence installation, but rather a fraction. So then, what percentage of your costs can you expect to recoup?
Because solid fences are considered more aesthetically pleasing, a solid vinyl or wooden fence can bring a return on investment of 50% or more. That tracks with the ROI for installing a new bathroom, which also stands at 50% on average, and on the average return on investment of 54% for a major kitchen remodel. It is less than the percentage you would recover for a garage addition, which lies between 64 and 81%, but it is significantly higher than building a backyard pool which would only gain you a 7% ROI.
Summarizing Considerations
For homeowners who want to increase the value of their property, a fence can be a worthwhile investment. If your new fence is properly installed, built with quality materials, matches the design of the house, and is properly maintained over time, it will add value to your property. While you won't recoup the full cost of your fence installation, you can maximize your return on investment by following the suggestions above.
Start planning your next fencing project today!
AVO Fence & Supply knows there is always more to learn when it comes to the latest tips and technology in the fencing industry. As a provider of high-quality fencing materials and supplies, we are dedicated to sharing our expertise with homeowners and contractors in the New England area. Give us a call today at (781) 341-2963.